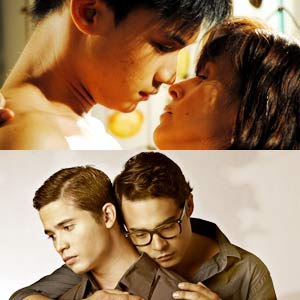 ---
GMA-7 actor TJ Trinidad tries his hand at directing through the indie film MKAK, which stands for Mga Kahihinatnan ng Aking Kabalbalan. He also stars in his directorial debut, which is one of the seven entries in the Cinemalaya-NETPAC category of the annual film festival. (CLICK HERE to read more about this year's entries)


TJ tapped Gina Alajar, Jodi Sta. Maria, Epi Quizon, Ketchup Eusebio, Bobby Andrews and Che Ramos as the stars of his film. Leo Martinez, Ricky Davao and Nonie Buencamino will also appear in MKAK. It is scheduled to have its world premiere at the Cultural Center of the Philippines this Friday, July 16, at 9 PM.


Filipino screenplay writer-director Clodualdo "Doy" del Mundo; Indonesian producer Ajish Dibyo and Axel Estein of the Asian Hot Shots Berlin Festival were the jury members who selected the films that will take part in the Cinemalaya-NETPAC.


The Network for the Promotion of Asian Cinema (NETPAC) is a worldwide organization of 29 member countries. As the only Pan-Asian organization devoted to the art and practice of cinema, NETPAC is committed to advance international awareness and understanding of Asia's diverse cinemas.


The seven films chosen are:

1. Ang Mundo sa Panahon ng Yelo (Ice is the Earth) by Mes De Guzman
This is the story of Digos, age 26, and his younger brother Pempe, age 14. They live in Alcala, an island south of the Philippines. Orphaned, they have no choice but to live with relatives. The situation leads to a dramatic and heartbreaking climax that, on an immediate level, shows how the brothers are inescapably bound to the sea. It underscores how Digos, Pempe and young laborers like them are doomed to lives of desperation and misfortune.

Director: Mes De Guzman
Scriptwriter: Mes De Guzman
Cast: Edwin Pamanian as Digo, Elijah Castillo as Pempe, John Iremil Dela Masa as Muning/ Kuto, Renante Huerte as Nante, William Cajilig as Willia, Joe Gruta as Maestro, Jess Ybardone as Kapitan


Schedule: July 15 / Thursday 06:15 PM Tanghalang Aurelio Tolentino (CCP Little Theatre)
ADVERTISEMENT - CONTINUE READING BELOW
2. Ang Ninanais (Refrains Happen Like Revolutions in a Song) by John Torres

In her desire to be with the young man she sees in a dream, Sarah (Che Villanueva) tries to finish collecting debt from villagers on her final day in the town of Guimbal, Panay Island. But as she goes around town, she collects not just furniture and belongings but also dreams, myths, history, and memory spent with the villagers.
Cast: Che Villanueva, Tope Grabato, Ciriaco Gibraltar

3. Magdamag (The Tryst) by Joven Tan

Soledad Arvis (Rita Avila) is a middle-aged college instructor while Joven Magat (Edgar Allan Guzman) is a fire dancer who barely finished high school. Sol is a liberated woman who had a string of relationships. Joven had no previous girlfriend except for a high school crush. Sol is contemplating on leaving her present husband, to start a new relationship despite the objections of her daughters.

Joven is waiting for a Swedish girlfriend who wants to buy a property in Boracay. Joven is promised a better life in exchange of marrying the retired Swedish woman.

When Joven and Sol had a chance meeting in Boracay during the Holy Week, they spent one sizzling night together.

That one night of passion would put their basic beliefs and values into test, questioning their morals, and in the end, would help them decide on the most pressing issues confronting their lives. Magdamag is an erotically-charged examination of power relationships, gender, faith, and the nature of love.

Director: Joven Tan
Screenplay: Gerry Gracio
Cast: Rita Avila, Edgar Allan Guzman
4. MKAK (Mga Kahihinatnan ng Aking Kabalbalan) by TJ Trinidad

John Mendez is a single, ambitious lawyer in his late twenties. Despite his humble beginnings, he has learned to rely on his charm to get ahead in life. John is given his first big break courtesy of his married female boss who he has been sleeping with.
ADVERTISEMENT - CONTINUE READING BELOW

John's troubles begin when he contracts an STD and is told that he is HIV-positive. Pidoy is John's best friend who is about to get married to his girlfriend, Sheila. However, a tragedy takes place that will rattle both of them.


Director: TJ Trinidad
Cast: Gina Alajar, Jodi Sta. Maria, Epi Quizon, Ketchup Eusebio, Che Ramos, Bobby Andrews, TJ Trinidad
Special Participation: Leo Martinez, Ricky Davao, Nonie Buencamino


Schedule: July 16 / Friday 09:00 PM Tanghalang Aurelio Tolentino (CCP Little Theatre)

5. Muli (The Affair) by Adolfo Alix Jr.
Muli chronicles the spanning love story between an underground activist/inn keeper and a lawyer in Baguio City whose complications, joys and tragedies provide a testament to the ultimate power of love.

Starring: Cogie Domingo and Sid Lucero together with Max Eigenmann, Rocky Salumbides, Evelyn Vargas, Angeli Bayani, Kenneth Ocampo, Arnold Reyes and Ardie Bascara

Schedule: July 17 / Sat 06:15 PM Tanghalang Aurelio Tolentino (CCP Little Theatre)

6. Sheika by Arnel Mardoquio

This film was originally one of the ten films competing in the New Breed of Filmmakers category of this year's Cinemalaya. However, it has been included in the Cinemalaya-NETPAC category instead.

Sheika is a story of a woman ravaged by war in Mindanao. In search of peace, she runs to the city but violence and death continue to haunt her.


Starring: Fe Gingging Hyde as Sheika; Perry Dizon as Gary; Popong Landero as Asul; Mark Anthony Perandos as Mudin/Dindin; Dan Lester Abarracin as Alfad/Soysoy
Screenplay: Arnel Mardoquio
Director: Arnel Mardoquio


Schedule: July 17 / Saturday 09:00 PM Tanghalang Aurelio Tolentino (CCP Little Theatre)

7. The Trial of Mister Serapio by Khavn Dela Cruz

A beggar is put to trial for taking an orphan girl under his wing. Paul Dumol's beloved classic one act play, considered by many as the first modernist play, may be more than 40 years old but in its inevitable transition to film in the hands of one of its most ardent fans, filmmaker Khavn De La Cruz, its meditations on justice and equality remain disturbingly, eerily relevant.


Director/Producer/Screenwriter: Khavn De La Cruz
ADVERTISEMENT - CONTINUE READING BELOW
Based on the play by Paul Dumol
Cast: Jess Santiago as Mang Serapio | Mr. Serapio, Vim Nadera as Unang Tagapagtanong | The First Interrogator, Mike Coroza as Ikalawang Tagapagtanong | The Second Interrogator, Teo Antonio as Hukom |


Schedule: July 15 / Thursday 09:00 PM Tanghalang Aurelio Tolentino (CCP Little Theatre)


GANAP NA BABAE. Last July 9, the film Ganap na Babae served as the opening film of Cinemalaya.

According to Will Fredo of HUBO Productions, the producer of the film, they lacked the time to upload the movie to the CCP's new HD player so they decided to bring their computer and screen the film in three parts.

Ganap na Babae will be screened anew this Sunday, July 18, at 10AM. This three-part film was directed by Rica Arevalo, Ellen Ramos and newbie Sarah Lopez. Starring Boots Anson-Roa, Mercedes Cabral and Sue Prado, this film will be screened for free at the CCP Little Theatre.


The 6th Cinemalaya Philippine Independent Film Festival will run from July 9 to 18, 2010 at the Cultural Center of the Philippines. Tickets are priced at P150 per film, and P75 for students. The Awards Night will take place this Sunday, July 18, 7pm at the CCP Main Theatre.


(CLICK HERE to view the screening schedules of this year's Cinemalaya entries)