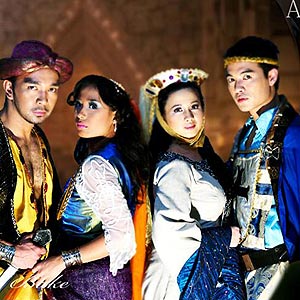 ---
"It is a unique theater experience!" says Tony Espejo, artistic director of Gantimpala Theater, regarding Florante at Laura. It is now under the direction of Roeder Camañag, with a new script written by Bonifacio Ilagan.

Florante at Laura opens the 33rd season of the dramatic arts company.
Originally written by Francisco Balagtas, it is about the lives of warring Moors and Christians, and the intertwining lives of Florante, Laura, Aladin and Flerida, a quartet of star-crossed lovers.

This immortal Filipino love story uses the theater form of the komedya, complete with its majestic marches and grand batalla.

"Bonifacio Ilagan wrote a very breathtaking and cinematic script, that is why I am very inspired to do this," says first time director Roeder Camañag.

"People can expect that the action and romantic elements plus the beauty of the language will be highlighted," continues the director. "If you are an actor, doing the play is very challenging since it requires you to use all your instruments, your body, voice and mind. If these three are not in sync, then you will not be able to give justice to the role assigned to you. "

"It is important for all actors to experience and act in a production like Florante at Laura as it will make you appreciate more your heritage and roots," Camañag adds.

He continues, "Directing for the first time is very daunting. However, I am confident that the play will turn out very well. My casts are very good! And as I said earlier, the script of Boni is brilliantly written."
ADVERTISEMENT - CONTINUE READING BELOW

"For the longest time, I was apprehensive to direct. Since day one of the rehearsals, I can not deny the fact that I am enjoying the experience," Camañag avers. "It took some time for me to accept a directorial job because I felt that it requires a totally different muscle and honestly, I thought that I didn't have it. Directing this made me realize that just like any other muscle, I can work it out."

Florante at Laura stars Joel Molina and Randy Villarama (alternately portraying Florante); Criena House (Laura); Eric dela Cruz and Arkin Da Silva (alternately portraying Adolfo); Jose Jeffrey Camañag (Haring Linceo); Zenaida Loyola Sevila (Reyna Floresca); Billy Parjan (Duke Briseo); Paul Jake Paule (Minandro); Ronald Concepcion (Antenor); Leo Ponseca (Sultan Ali-Adab); Berl William Angeles (Aladin) and Hazel Orencio (Flerida).

Rounding up the artistic staff are Jose Jeffrey Camañag (Associate Director); Andy Villareal (Lighting Designer); Norman Peñaflorida (Set Designer); Alex Guerrero (Choreographer); Charyl Chan de Guzman (Production Manager) and Glendel Dacumos(Stage Manager).

The National Parks Development Committee (NPDC) and Everbilena support Gantimpala Theater's Florante at Laura.

Performances are slated on August 1, (6pm), at the Concert at the Park Open Air Auditorium, in Luneta, Manila; August 6 to 8, August 13-15, (10am/2pm), at the AFP Theater in Quezon City; and August 20-22, (10am/2pm), SM Southmall, in Las Piñas City.

For bookings and tickets, call - 899-5745; 896-3503 or 474-5198. Or visit www.gantimpalatheater.multiply.com or www.facebook.com/gantimpala.
ADVERTISEMENT - CONTINUE READING BELOW