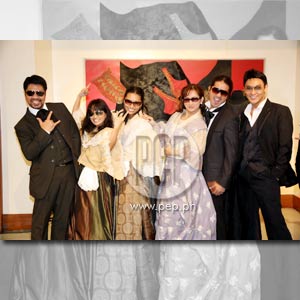 ---
Fresh from his Best Actor win for Sheron Dayoc's Halaw of the 6th Cinemalaya Philippine Independent Film Fest, John Arcilla leads the talented cast of Banaag at Sikat: Isang Rock Musical. The production will open the 24th season of Tanghalang Pilipino at the Cultural Center of the Philippines on August 18 and will run until August 29, 2010.

The musical is based on the novel by Lope K. Santos written in 1911. Two esteemed creative minds have collaborated for Banaag at Sikat, National artist for Literature Benvenido Lumberia adapted the novel as a script for the stage while National Artist for Theater Design Salvador Bernal conceptualized the sets and costumes.

Another two actors from this year's Cinemalaya joins Arcilla in the cast. Both of them played a young mother in their respective entries. Angeli Bayani is in Jay Altarejos' Pink Halo-Halo while Ayen Munji Laurel is in Joel Lamangan's Sigwa.


Most of the cast members who have been classically trained will be performing a combination of rock music and traditional Zarzuela songs. Ayen, an alto soprano, will be singing with Al Gatmaitan who plays Delfin who will have the more aggressive and younger sounding songs. Greg De Leon who also has a traditional opera background will be performing the Zarzuela portions.

Seasoned stage actors like Clottie Lucero, Emlyn Santos, Raymond Roldan, Riki Benedicto, Jonathan Tadioan, Cheryl Ramos, Maria Elcon Cabasag, Kathlyn Castillo, Martha Comi, Aandrei David, Jejie Esguerra, Hazel Maranan, Gio Ramirez and Rachel Alfonso Rubio are also part of the cast.
ADVERTISEMENT - CONTINUE READING BELOW

Producer Fernando "Nanding" Josef said that they were initially concerned of opening together with the musical Cats led by Lea Salonga. He was relieved when Banaag at Sikat's opening was set to August 18. "When you ask the younger people today they are more familiar with plays coming form Broadway than they are with locally produced musicals. Marketing our musical won't be easy. Then we found out that Cats will have an extended run up to the 18th. But I think people will still be able to appreciate the rock treatment especially the youth."

National Artist for Literature Bienvenido Lumberia bared his own motives for writing the musical. "Early 20th century, Lope Ka Santos was the most popular writer of his time. His novel Banaag at Sikat was published as a series nearly everyday for two years in a newspaper and was widely read. These days reading has been slowly overtaken by radio, movies, TV and now the computer. My reason for adapting his novel into a play is to help our younger generation know and realize the greatness of his works."

With music by Lucien Letaba, Banaag at Sikat updates the socialist theme by contrasting turn of the century Philippines (1911) with music that is very accessible: rock. The production will be staged under the artistic vision of Jose Estrella, a critically acclaimed director whose works for TP include Orfeo sa Impyerno (Orpheus Descending) and Pokpok ng Ohio (The Whore from Ohio), among others.

Banaag at Sikat, Isang Rock Musical will run for two weeks from August 18-22, 25-29, with evening shows 8 pm from Wednesday to Sunday. Matinees are on 3 pm from Friday to Sunday. The musical play will be staged at the Tanghalang Aurelio Tolentino (Little Theater) of the Cultural Center of the Philippines.
ADVERTISEMENT - CONTINUE READING BELOW

For inquiries, please call Tanghalang Pilipino at 832-3661 or 832-1125 local 1620.