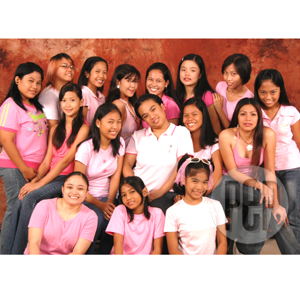 ---
Gantimpala Theater, together with the National ParksDevelopment Committee (NPDC), offers a worthy weekend treat as it presents theplay Urbana at Feliza this Saturday, May 19.
This performance is the culminating recital of Gantimpala'sannual musical theater workshop, a summer tradition that the company started 30years ago.
Tony Espejo, Gantimpala artistic director says, "It isalways a pleasure to conduct summer workshops. We enjoy the process oftransformation we witness happening to the workshoppers-from the shy ganglyperson to one who can deliver a punch line, sing a tune and work out dancesteps. Teamwork with strange faces only a few weeks ago is achieved withamazing speed while the creative juices seem to be coming from a bottomlesswell. I hope this workshop will be the start of their love affair withtheater."
Urbana at Feliza, based on the original librettowritten by Roni Bertubin, is the musical production showcase by the 2007 batch.Original music is by the award-winning Jesse Lucas while the revised librettois created by this year's workshop master Roeder Camañag.
ADVERTISEMENT - CONTINUE READING BELOW
The play is loosely based on the tale of two sisters andtheir letters that chronicle and mirror the many aspects of their lives.
Camañag directs the production with Nazer Salcedo (who alsoserves as voice instructor) and Espejo as co-directors.
The cast members are Ma. Bernadette Feliciano (Urbana),Joyce Anne Rosales (Feliza), Edmer Tamo (Ernesto), Jamie Lyne ROsales (youngUrbana), Rosel Kasilag (young Feliza), John Paul Garcia (Don Teroy), CarmencitaDayrit (Doña Tinay), Troy de Guzman (Ama), Iris Marie Taguipez (Ina), KarlEmmanuel Carrascal (Eddie), and the rest of the teens and young adults class.
A dance recital of the Gantimpala's Actors Company will alsobe presented as they perform special dance numbers choreographed by RaulNepomuceno Jr. of the Ramon Obusan Folkloric Dance Troupe.
Performance date: May 19, 6 p.m.
Venue: Concert at the Park Open Air Auditorium in LunetaPark.
For ticket inquiries, please call Alwyn at 528-0603 or09164259204.
ADVERTISEMENT - CONTINUE READING BELOW