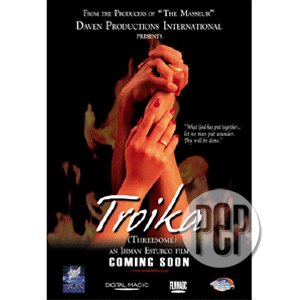 ---
The University of the Philippines Film Institute holds the fitting grand finale to its summer season of screenings with the debut film by Ihman Esturco. Troika (Threesome) from Daven Productions screens thrice daily for three straight days in three separate sets of play dates as follows: May 22-24 (Tuesday-Thursday); May 31 (Thursday); and June 1-2 (Friday-Saturday). The screenings will be held at 3 p.m., 5 p.m., and 7 p.m.


This sizzling indie flick tells the story of a mining engineer (Andre Soriano) who is having marital problems with his wife of Indian descent played by Mara Altiera. The two have a son (Peter Lacana) who is afflicted with a learning disability.
Prior to his assignment in the mining camp, the mining engineer has been experiencing problems at home: He is cold and distant toward his son and is unable to please his wife in bed.
To fix their marriage, the wife decides to follow her mining engineer husband up north and even brings along their son. They are happy for a while and their bond seems to be improving.
ADVERTISEMENT - CONTINUE READING BELOW
However, the husband decides to set up the wife with one of the workers at camp (Jamil Basa) who also stays in the house—an act that eventually leads to a ménage a trois.


Troika (Threesome)

From Daven Productions

An engineer in a troubled marriage with his wife of Indian descent is drawn to a miner of ethnic Ibaloi ancestry who would arouse passion in both spouses against the backdrop of a mining site that teems with sweaty, swarthy, naked lads and is badgered for its ill effects on the environment and the indigenous community it has displaced.

Direction: Ihman Esturco
Screenplay: Eric Ramos
Cast: Andre Soriano, Jamil Basa, Mara Altiera, Criselda Volks, Lauren Novero, Raven Villanueva, Carlo Lacana, Lara Morena


2007 100 minutes 35mm color English subtitles


Strictly for mature viewing with restored footage of deletions from the version for regular theater exhibition.
Venue: UP Film Institute, Magsaysay and Osmeña Avenues, UP Diliman, Quezon City
ADVERTISEMENT - CONTINUE READING BELOW