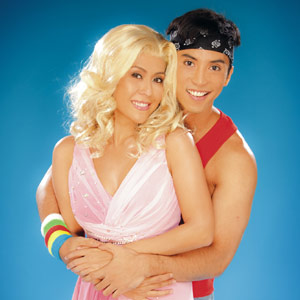 ---
Step back, or rather, skate back to the '80s through Atlantis Productions' presentation of the musical comedy Xanadu. Directed by Bobby Garcia, this hilarious play will be staged at the RCBC Plaza in Makati City until September 19, 2010.


Xanadu's book--by playwright Douglas Carter Beane--revolves around the muse Clio, who has come to L.A. to inspire a street artist named Sonny Malone to open a roller-disco in an abandoned theatre called Xanadu. And then, with the premise in place, he piled on layers upon layers of camp, leavened with the multiplatinum songs from the original movie's soundtrack, which include radio hits "Suddenly," "Magic," and the title song.


The show also hedges its bets by aiming the arrow on itself every chance it gets. "The muses are in retreat," intones the god Zeus, played by Noel Trinidad in the musical's dramatic climax. "Creativity shall remain stymied for decades. The theater? They'll just take some stinkeroo movie or some songwriter's catalog, throw it onstage and call it a show."


It helps that the cast is game, and hilarious, and can sing even while rolling around the stage in retro roller skates. As Clio, the muse who decides to come to earth, Rachel Alejandro proves to be a hilarious, charming presence--even more than she was in Promises, Promises or hiding behind a puppet in Avenue Q. It helps that her voice is as supple and graceful as it was in her hitmaker days, and arguably a better instrument than Olivia Newton-John ever had. She scores even more as her human alter-ego Kira, who speaks with the most cartoony Australian accent you'll ever hear: it's like she researched the role while watching repeats of Crocodile Hunter. And yes, Rachel is in on the joke, which makes it even greater.


As Sonny Malone, the hapless artist in slightly alarming denim cutoffs, Felix Rivera handles himself with more aplomb than you think could be possible from someone with the most humiliating costume in recent theatre history. Rivera has a fine voice, which would be no surprise to anyone who saw him in Avenue Q, but is a bit problematic in his dialogue scenes since he sounds like he's concentrating more on delivering his lines in the character's Valley-boy accent. Still, the sheer technical effort of the role is enough to garner admiration for Felix, who gives it his all.


The indomitable Noel Trinidad gives a master class in how to play a role completely straight and still, by dint of will, nail every punchline. As the "evil" muses Melopomene and Calliope, Chari Arespacochaga and Yael Alano Pineda pretty much stop the show with their rendition of ELO's "Evil Woman"--an ad hoc addition to the score by virtue of Jeff Lynne, ELO's chief songwriter, providing half of the songs for the original film's soundtrack. Chari, in particular, dials it up to 11, camping her way across the stage and stealing every scene she's in.


Direction by Bobby Garcia is adept, although it would have probably been better if the production concentrated a bit more on the roller-dancing. However, that criticism is a small one compared to the campy yet fun evening that Xanadu provides.


Xanadu is a definite Xana-do for anyone with a sense of humor and a fondness for disco balls.

ADVERTISEMENT - CONTINUE READING BELOW




SYNOPSIS. Xanadu tells the story of a magical and beautiful Greek muse named Clio (Rachel Alejandro) who disguises herself as Kira and descends from Mt. Olympus to Venice Beach, California in 1980. She hopes to inspire a struggling chalk mural artist, Sonny Malone (Felix Rivera), to achieve the greatest artistic creation of all time: a roller disco. But her jealous sisters concoct a magic spell that turns both Venice Beach and Mount Olympus upside down.

This roller skating, musical adventure inspires viewers to follow their dreams despite the limitations that others set for you. It features hit songs of pop-rock legends Jeff Lynne and John Farrar, including "Magic," "All Over The World," "Suddenly," "I'm Alive," "Evil Woman," "Have You Never Been Mellow" and "Xanadu." It is based on the 1980 film of the same title, which starred Olivia Newton-John and Gene Kelly.

Xanadu stars pop singer and thespian Rachel Alejandro, who captured theatergoers' hearts in the dual role of Kate Monster/Lucy The Slut in Avenue Q, as the blonde-haired Kira. Felix Rivera (Avenue Q, Spelling Bee) plays Sonny Malone. Joining them in the cast are Noel Trinidad, Leo Rialp, Chari Arespacochaga, Bea Garcia, Anthony Ong, Alys Serdenia, Glen Llanes, Robbie Zialcita and Yael Pineda (Disney's The Lion King in West End).


This production features set design by Lawyn Cruz, costume design by Twinkle Zamora, choreography by Cecile Martinez, musical direction by Ceejay Javier, lighting design by Jonsy Reyes and vocal coaching by ManMan Angsico. It runs until September 19 at the Carlos P. Romulo Auditorium, RCBC Plaza, Makati.
ADVERTISEMENT - CONTINUE READING BELOW

For tickets, call Atlantis Productions at 892-7078 or 840-1187 or visit www.atlantisproductionsinc.com.


After staging Xanadu, Atlantis Productions will present Stephen Sondheim's A Little Night Music with Ms. Dawn Zulueta in a major role. Bobby Garcia helms this production, which will be staged from October 15 to 31 at the RCBC Plaza.