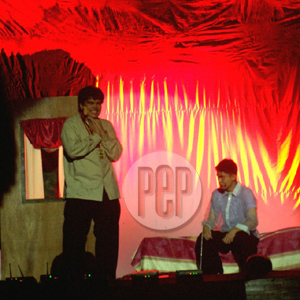 ---
Isang Bakla sa Hukbo ni Aguinaldo, written by Prof. Benjamin Mangubat of the University of the Philippines, combines Philippine history and fiction by creating a new character caught in a fascinating twist. He wrote the play before the proliferation of independent films tackling homosexuality in mainstream consciousness. It won third place in the Centennial Literary Awards in 1998.
"I wanted to come out with something that would present important milestones in Philippine history as we know it. At the same time, I wanted to put some color to make it more interesting. I mean, what else or what more can you write about our history? So that was the challenge for me," explained Mangubat a few hours before the start of the play last May 25 at the Girl Scouts of the Philippines theater.
Mangubat's decision to create a gay character was both for comic reasons and to explore a theme, which at the time, was pretty much untouched commercially.
"Just to set a perfect balance," he said, and laughing, "because history is a serious subject and what could be worse than to have a gay member inside Aguinaldo's camp? But aside from that, I wanted to present something na hindi pa masyadong ini-explore at that period, which is homosexuality. Ngayon, prevalent na 'yang topic na 'yan sa mga pelikula and theater pero before hindi pa masyado."
Set at the height of escalating burning sentiments of the Filipino people against the Spaniards, the play's gay protagonist, Esteban, joins the revolutionaries hoping to topple an oppressive government. Despite his gender issues, Esteban becomes an asset and eventually plays a huge part in attaining freedom for the country. Unfortunately, his homosexuality taints him in the eyes of the newly established revolutionary government. The conservative leaders order that his name be omitted from the pages of local history.
ADVERTISEMENT - CONTINUE READING BELOW
Esteban and the circumstances he found himself in were the only elements of fiction in this historical play. The important historical events—the execution of Fr. Mariano Gomez, Fr. Jose Burgos and Fr. Jacinto Zamora (GOMBURZA); the birth of Katipunan by Supremo Andres Bonifacio; the execution of Bonifacio and his brother, masterminded by fellow revolutionary Emilio Aguinaldo; the various revolts that took place around the country, and the founding of the first Philippine Constitution—are all intact and clearly depicted by Mangubat.
The subject of homosexuality may represent various social ills—betrayal, discrimination, hypocrisy and greed—corrupting an unstable nation, which, sadly, remain rampant even today.
Isang Bakla sa Hukbo ni Aguinaldo was presented by a group of UP Manila medical students as part of their Philippine Institutions 100 summer class.
Play director Mari Francine Krizia Daya replied, when asked if she was astonished to find that these medical students could actually hold their own in stage acting: "I wasn't really surprised because UP Manila is known to have good talents, particularly in theater and stage production."
"But our aim, of course, aside from showing the brilliance of the play and its message, is for us to present something valuable outside the confines of our books or classrooms; that we're more than capable of doing and achieving things and that we're very much aware of what's going on out there," she explained.
With the re-staging of his play, Benjamin Mangubat hoped to encourage others to celebrate the centennial of the state university through various cultural activities.
ADVERTISEMENT - CONTINUE READING BELOW