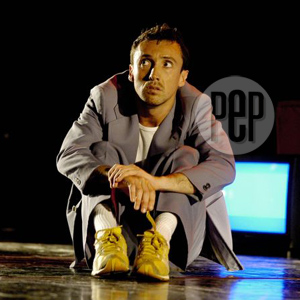 ---
Instituto Cervantes and the Cultural Center of the Philippines invite you to witness the exceptional talent of prominent Spanish dancer and choreographer Asier Zabaleta in EGO-tik on June 3, 2007 (7:00 pm) at the CCP Main Theater Stage.
EGO-tik is a continuation of Ego, a short piece which Zabaleta wrote two years ago.
Asier Zabaleta was born in Ezkio (Gipuzkoa), Spain, in 1972. Through the years, hard work coupled with outstanding skill established him as a leading performing artist in various Spanish dance companies. In 1994 Zabaleta formed the Swiss dance troupe ALIAS where he was integral in the creation of six pieces for dance-theater that was successfully toured around the world. In 2004 he formed the company ERTZA with the objective of merging different disciplines of art with contemporary dance. He remains a renowned performer in Spain.
In EGO-tik, Zabaleta explores his most hidden depths. This piece is more than a dance because he will be speaking as well. In one scene, he will engage in a dialogue between reality and reproduction. His image will be projected on several television monitors featuring a dialogue with himself. As the piece progresses, the Basque dancer slowly unravels his weaknesses and fears.
The show is filled with irony and humor. It ridicules the attitudes of people and deviates from the traditional theme of showing solely what is beautiful and instead depicts reality.
Free entrance, limited seats.
Performance date: June 3, 2007 (7:00 pm)
Venue: Main Theater Stage, Cultural Center of the Philippines, CCP Complex, Roxas Boulevard, Pasay City