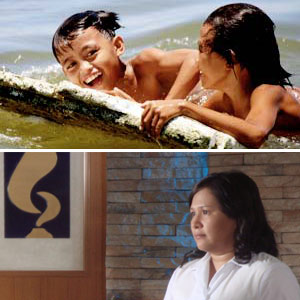 ---
The Film Desk of the Young Critics Circle has recently announced the winners of the distinguished achievement in films of 2009.
Ralston Jover's Bakal Boys (Children Metal Divers) won Best Film of the Year and Best Cinematography and Visual Design. Armando "Bing" Lao's Biyaheng Lupa (Soliloquy) bagged Best Screenplay and Best Sound and Aural Orchestration. Pepe Diokno's Engkwentro (Clash) clinched Best Achievement in Film Editing. These three films were all directed by first-time directors.


The acting award, the one for Best Performance, went to Janice de Belen in a lead role for Last Viewing.
Established in 1990, YCC is the academe-based critics group. Its members are observers of Philippine cinema who constantly bring into the analysis of film an interdisciplinary approach.
YCC drew its selection from both regular and non-regular releases comprising the entirety of Philippine cinema output in 2009. Some titles had to be dropped out of consideration if they failed to have a total of three or more screenings before a paying or non-paying audience in any one or more public venues within the given calendar year.
When the members deliberated on the choices last September 16, the indie film Bakal Boys emerged as the frontrunner since it is the only one to figure in all six categories of this year's YCC roster of honor. This films tells the story of children who scavenge for scrap metal in the murky waters of Manila Bay to make a living.


Bakal Boys, which also stars Gina Pareño, was able to beat three other nominees: Last Viewing, Biyaheng Lupa and Engkwentro.
This year's Best Screenplay category proved to be strongest yielding the most number of nominees compared to the rest. Three of the Best Picture contenders were joined in the said category by two more titles, namely, Veronica Velasco's Last Supper No. 3 and Alvin Yapan's Ang Panggagahasa kay Fe.
ADVERTISEMENT - CONTINUE READING BELOW
The same three Best Picture contenders also landed slots in the Best Performance category, with Janice de Belen emerging as the eventual winner for her portrayal of a grieving mother in Last Viewing. She was pitted against another individual performance by a non-actor, Meljun Ginto, from Bakal Boys; the ensemble performance by the entire cast from Biyaheng Lupa and lastly, that by the novel tandem of elderly stars: Anita Linda and Rustica Carpio from Brillante Mendoza's Lola.
YCC is set to issue critical essays for public dissemination expounding on the merit of its choices for this year's conferment of honors officially billed as 20th Annual Circle Citations for Distinguished Achievement in Film. Among previous films in recent years to attain YCC's topmost distinction are Inang Yaya (2006), Foster Child (2007) and Adela (2008).
Here is the complete list of winners and nominees for this year's YCC film awards:
Young Critics Circle Film Desk Awards
20th Annual Circle Citations for Distinguished Achievement in Film for 2009

Best Film of the Year
Winner: Bakal Boys directed by Ralston Jover (Apogee Productions; Albert Almendralejo and Bessie Badilla, Producers; Celso de Guzman, Line Producer)
Nominees:
Last Viewing directed by Roni Bertubin (Davis Entertainment; Liza Davis, Executive Producer; Ferdinand Lapuz, Antonio de Guzman Jr. and Olivia Madrigal, Producers; Roberto OJY Yap, Associate Producer)
Biyaheng Lupa directed by Armando Lao (Quantum Films; Joji Alonso, Josephine Bautista-Tence and Armando Lao, Executive Producers; Jocelyn D. Bracamonte and Ferdinand Lapuz, Producers)
Engkwentro directed by Pepe Diokno (Pepe Diokno, Producer; Joji Alonso, Associate Producer; Amor Olaguer, Line Producer)
Best Screenplay
Winner: Biyaheng Lupa (Quantum Films) - Armando Lao
Nominees:
Last Viewing (Davis Entertainment) - Romualdo Avellanosa
Ang Panggagahasa kay Fe (Rolyo Productions) - Alvin Yapan
Last Supper No. 3 (Beinte Singko Mil Productions) - Veronica Velasco and Jinky Laurel
Bakal Boys (Apogee Productions) - Ralston Jover and Henry Burgos
ADVERTISEMENT - CONTINUE READING BELOW
Best Achievement in Cinematography and Visual Design
Winner: Bakal Boys (Apogee Productions) - Ruben de la Cruz and Carlo Mendoza, Directors of Photography; Deans Habal, Production Designer
Nominee:
Engkwentro (Pepe Diokno) - Emman Pascual, Director of Photography; Leeroy New, Production Designer
Best Achievement in Film Editing
Winner: Engkwentro (Pepe Diokno) - Ralph Crisostomo, Miko Araneta, Orlean Tan
Nominees:
Last Viewing (Davis Entertainment) - Lee Mi Soon
Bakal Boys (Apogee Productions) - Charliebebs Gohetia, Kats Serraon
Best Achievement in Sound and Aural Orchestration
Winner: Biyaheng Lupa (Quantum Films) - Ditoy Aguila and Nolet Clemente, Sound Engineers; Gian Gianan, Musical Director
Nominees:
Engkwentro (Pepe Diokno) - Mark Laccay, Sound Designer
Bakal Boys (Apogee Productions) - Mark Locsin, Sound Engineer; Teresa Barrozo, Musical Director
Best Performance by Male or Female, Adult or Child, Individual or Ensemble in Leading or Supporting Role
Winner: Janice de Belen in Last Viewing (Davis Entertainment)
Nominees:
Duo Performance by Anita Linda and Rustica Carpio in Lola (Centerstage Productions)
Ensemble Performance by the Entire Cast in Biyaheng Lupa (Quantum Films)
Meljun Ginto in Bakal Boys (Apogee Productions)
The Film Desk of the Young Critics Circle is composed of Prof. Jason P. Jacobo (President), Dr. Eloisa May P. Hernandez, Prof. Gerard R. A. Lico, Dr. Patrick D. Flores, Nonoy L. Lauzon, Dr. Flaudette May V. Datuin, Romulo Baquiran Jr., Noel D. Ferrer, Dr. Galileo S. Zafra (on leave), Dr. Eli R. Guieb, Dr. Jerry C. Respeto (on leave), Prof. Neil Martial R. Santillan (on leave), Eileen C. Legaspi-Ramirez