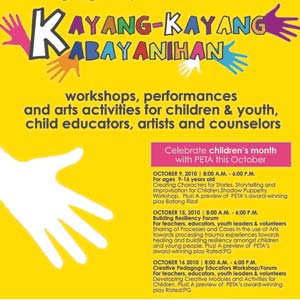 ---
In celebration of children's month, the Philippine Educational Theater Association (PETA) through it's Children's Theater Program will host a series of workshops, performances and arts activities for children, youth and adults this October. The Children's Arts happening titled Kayang-Kayang Kabayanihan, focuses on developing creativity, participation and resiliency amongst children and young people, and how everyone--young or old--can be heroes.

As seen a year ago from the tragedy brought by Ondoy, Filipinos have exhibited strength, courage and unfaltering resilience during and after the calamity. Many unsung heroes were seen on the streets helping out their neighbors, packing goods, giving away clothes, cooking meals and a majority even opened their homes to the those who were badly hit. The bayanihan spirit soared high during this time. Because of this, PETA aims to instill in every young Filipino that the idea that dying for a grand cause is not the only key to becoming a hero. There is a hero inside all of us and it is best to wake up that hero while we are young!

Through different games, performances, and workshops Kayang-Kayang Kabayanihan will provide a space for children and for those young at heart who work with children to tap into the little hero inside of them and to nurture that towards building characters of confidence, goodwill, pride and dignity.
The first day of the festival happened last October 9. Children ages 9-16 years old were treated to a series of workshops and performances facilitated by PETA, Anino Shadowplay Collective, Kuwentista ng mga Tsikiting and Ilustrador ng Kabataan. The workshops included Kulay at Krokis-Creating Characters for Stories, Kathang Katawan-Storytelling and Improvisation for Children and Anino at Karilyo-Shadow Puppetry Workshop plus various performances including PETA's award-winning play Batang Rizal.


The second leg of the festival will focus on the young at heart, youth and adults 16 and above will be involved in various discussions and interactive forums. On October 15, participants will be sharing processes and cases of using arts towards processing trauma experiences amongst children and young people. Workshop topics will include Creative Writing Workshops with Children with AD/HD, Understanding Positive Discipline, Creative Approaches in Helping Girl Survivors of Sexual Abuse and Psychosocial Intervention as Disaster Response in Communities.


The last day of the festival will be for educators. Lectures and workshops will focus on Developing Creative Modules and Activities for Children with topics ranging from Developing Stories for Children, Visual Arts for Children to Shadow Puppetry. The day will end with the performance of PETA's Palanca award-winning play, Rated:PG.


Explore and develop your creativity and discover the inner hero inside. Be part of PETA's Kayang-Kayang Kabayanihan this October 15-16, 8:00 A.M.-6:00 P.M. at the PETA Theater Center.


For festival pass and ticket reservations, contact PETA's Marketing and Public Relations Office at 7256244, 4100821-22 or 0917-8044428, petatheater@gmail.com.
ADVERTISEMENT - CONTINUE READING BELOW