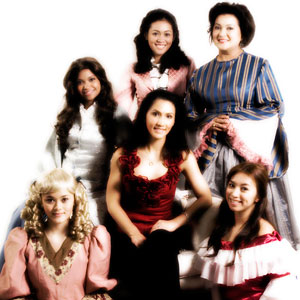 ---
Repertory Philippines invited press members to a preview of this year's traditional Christmas production, which will be a production of the 2005 Drama Desk awardee Little Women.
Based upon the 1869 classic by Louisa May Alcott, the book of this production is by Alan Knee, with music by Mindi Dickstein and lyrics by Jason Howland. Leading the cast are film, TV and theatre actress Pinky Marquez as Marmee and Caisa Borromeo as Jo March, with Rep stalwarts Joy Virata as Aunt March and Miguel Faustmann as Mr. Laurence. Joining Borromeo in filling in the roles of the March sisters are Cara Barredo (Beth), Lora Nicolas (Meg) and Kelly Latti (Amy). Meanwhile, Jeff Arcilla, Jamie Barcelon and Jack Salud play Professor Bhaer, Laurie and John Brooke, respectively.
So what do Filipino audiences have to learn from the semi-autobiographical adventures of four sisters in America's civil war? "I think good literature, and good stories, stand the test of time," says director Menchu Lauchengco-Yulo. "The lessons of Little Women are good for us to focus on in this age of technology. There's the value of communicating inside a family, why its good to use your imagination to entertain yourself--because the March family didn't have TV--and why a family should always support each other. These are things that are good for the older audiences to remember and the younger generation to find out."
Little Women has been in rehearsals since August 30, and will begin its run on November 20 at Onstage, 2/F Greenbelt 1, Ayala Center, Makati City. Lauchengco-Yulo also urges educators to assign the show to their students, lamenting that "We've been trying to get school administrators to watch the shows, but in some presentations, we've come across people who haven't even heard of the book." At the very least, Lauchengco-Yulo says, "If they end up liking the show--which we certainly hope they will, because the songs have good recall, the story is very engaging, and there's a wonderful Christmas feeling to the whole thing--maybe it will fire up their interest in reading classics like Little Women."
ADVERTISEMENT - CONTINUE READING BELOW
Other notables involved in this production are Gerard Salonga, who will be conducting the FILharmoniKA orchestra; New York City-based Joey Mendoza who will handle set design; Tuxqs Rutaquio doing the production's costume design; and John Batalla for the lighting design.
Little Women runs from November 20 to December 12, 2010, Fridays and Saturdays at 8:00PM with matinees at 3:30PM on Saturdays and Sundays at Onstage, 2/F Greenbelt 1, Ayala Center, Makati City.


For ticket inquiries and other information, call Repertory Philippines at 571-6926, 571-4941 or email info@repertory-philippines.com. Tickets also available at Ticketworld (Tel. No. 891-9999).