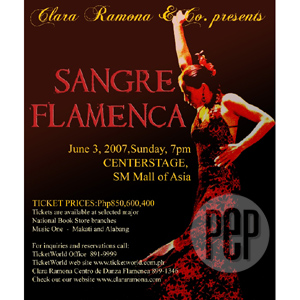 ---
In a deliberate mix of the experimental and the traditional, world-renowned flamenco sensation Clara Ramona stages the universality of flamenco in Sangre Flamenca—an exposition of grace, creativity and heritage.
The company's first theatrical production heralds the premier of the acclaimed dancer's original choreographies, promising an experience that is as searing and authentic as an evening spent in Spain. Set within the large-scale brilliance of theater and fused with an eclectic mix of live musicians and superb local dancers, it has the makings of an event that will surely live in the memories of all who will see it.
Sangre Flamenca, to be held on June 3 at SM Mall of Asia's CenterStage, will combine both the exotic and the familiar in an effort to translate the virtuosity of flamenco and Spanish dance into a deep and vital human experience.
In its first season and premier production sponsored by SM Mall of Asia and the Fuego Hotels and Properties Management Corporation, Clara Ramona & Co. presents a varied anthology that is rich in music, song and dance.
The show is set to begin with Inspiracion Danza Flamenca, which will feature choreographies that will underscore Spanish dance's expressive range through movement and dramatic interpretation. Infusion will follow the sequence, showing the way gypsy culture, Sephardic and Arabic influences, Filipino heritage and contemporary fusion has meshed to become a gala of Spanish dance. Expect willowy silhouettes dancing to Maurice Ravel's Bolero to indulge audiences in an original interpretation of this classic that ties in with Philippine culture. By contrast, Flamenco Cotidiano stokes the flame of traditional flamenco—from the simplest to the most complicated forms—that puts the elegance, power and passion of the dance in the spotlight.
ADVERTISEMENT - CONTINUE READING BELOW
Sangre Flamenca emphasis lies in flamenco and Spanish dance's ability to seamlessly meld cultures with dignity and its ability to convey so much on its own terms. Featuring authentic live music from Yerbaguena, original choreographies from Clara Ramona and an invariably remarkable demonstration of flamenco's expressive range, the night promises to be nothing short of sensational. More than anything, it unifies an experience of creativity, using dance to rise above the diversity of culture, race, nations, language and time.
For ticket inquiries and reservations, call Ticketworld at 891-9999.
Performance Date: June 3, 2007 (7 p.m.)
Venue: CenterStage, SM Mall of Asia, Central Business Park Bay Blvd., Bay City