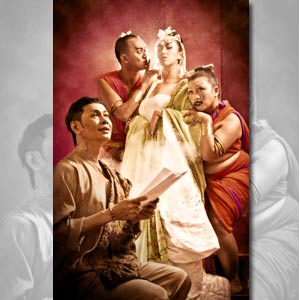 ---
Asia On Stage (AOS) is a consultancy, management and production company specializing in the creation and marketing of Asian musicals and theater productions. The company's vision is to commission Asian productions and develop them into business entities that can be produced, distributed and performed in the Asian markets.


Recognizing the growing number of multi-talented artists in the theater industry in the Philippines, AOS commissioned its first grand musical production to be developed and performed in Manila from November-December 2010.


The musical titled DragonTales is an original narrative about magical Dragon Realm that is divided by the appearance of a Half Dragon who claims to be the eligible successor of the King.


The cast of DragonTales are also some of the biggest names in the theater and television industry today: Kalila Aguilos, Banaue Miclat, Miguel Vasquez, Neomi Tabanao-Gonzales, Nar Cabico, Meann Espinosa, Lex Marcos, Carlon Matobato and Joel Molina. Playing a key role as Miki is Gani Karim, who doubles as the choreographer of the production.


The tale features breathtaking Asian music, dance, drama and an English text that displays various Asian values such as friendship, family, respect and love.


After its performance in the Philippines, DragonTales will be toured around Asian cities including Singapore, Kuala Lumpur, Hong Kong and Shanghai, China during the third quarter of 2011.


AOS brought together the best talents and artists from the Philippines and Singapore to create a production with a strong Asian sensibility and world-class appeal. Acclaimed Singaporean theater director Jeremiah Choy will helm the musical. A seasoned theater practitioner, he has performed and toured with TheatreWorks since 1988; directed productions such as A Broadway Christmas Carol (Arts House) and Machines (TheatreWorks) which he was nominated for Best Director in the 2002 DBS Life! Theatre Awards.


The music is composed by home-grown talent, Vincent A. De Jesus, award-winning theater, film and television writer and composer whose works have won him several awards from the Urian Awards, Luna Awards, Don Carlos Palanca Awards and Aliw Awards to name a few.


The choreographer, Gani Karim, is a sought after choreographer and arts educator in his hometown Singapore as well as abroad. His most recent international works include Salusuah (Orangedot Productions: Hong Kong City Fest 2010) a solo dance drama which he also wrote; Animal Farm (Wild Rice Theatre Company: Hong Kong Arts Festival 2010); and Generation/s (Singapore Arts House) which recently toured Tokyo and Moscow.


Set and costume designer with an MFA in Design from the New York University, Gino Gonzales is in-charge of the Production Design while coveted freelance Lighting Designer, JonJon Villareal provides the breathtaking lighting scheme.



AOS' DragonTales will be shown at the PETA Theater Center on the following dates: November 27, 28, December 4 and 5 (10:00 am), November 26, 27, 28, December 3, 4, and 5 (3:00 pm), November 26 and December 3 (7:30 pm).


For advance reservations and bookings, please contact DragonTales Marketing at Tel. No. 881-0984, 0917-5562718 or 0915-2957550 or dragontalesmanila@gmail.com.
ADVERTISEMENT - CONTINUE READING BELOW

Address: PETA Theater Center, No. 5 Eymard Drive, New Manila, Quezon City