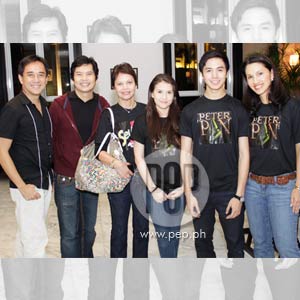 ---
Audie Gemora's STAGES Productions is looking forward to joining forces with Repertory Philippines for the staging of the musical Peter Pan.
Sam Concepcion will be playing Peter Pan and Tippy Dos Santos is cast as Wendy. (CLICK HERE to watch Sam in character as Peter Pan)
"We are doing a co-prouduction. It's the first time that we're doing this with Repertory. So, it's quite exciting," Audie Gemora said about the joint project of his theatre group with the respected theatre group in the country.
"You have two companies who used to be competitors and are actually coming together this time as partners."
Audie believes that the partnership is beneficial for the staging of a big production in the local theatre scene.
"I think we're going to draw strength from each other. Right now, just look at how they are promoting. A lot of this is how we use to promote our shows. We're trying to elevate Repertory from being an established quiet theatre company to one that is a little bit more maingay (noisy) and more showbiz. We want to inject more panache and showbiz persona to it," Audie pointed out.
Audie himself is no stranger to Repertory Philippines having appeared and honed his talent in numerous productions of the theatre company in the past. He recently appeared onstage for Sweeney Todd and directed the controversial Equus that starred Marco Mañalac.
Audie is happy to bring young actor Sam Concepcion to the theater company that developed his acting skills.
"Sam is a STAGES talent. Tamang-tama lang for him. And it's backed up by Repertory's artistic direction. So, it's gonna be quite exciting."
A DELIGHTFUL SURPRISE. Audie, who is president of Stages and a founder of Trumpets, said that it was Joy Virata who broached the idea of a co-production.
ADVERTISEMENT - CONTINUE READING BELOW
Audie said, "It's a compliment to us. You also have to consider that enormity of the project. Ako naman, I have always considered myself as a Repertory baby. I said, 'yeah, of course.'
Audie said that the idea was brought up to him when Equus ended its run last July.
"Right around August... That was the time the idea was broached. We started with exploratory meetings and doing the numbers. Kasi iba yung sistema nila, iba yung sistema namin. And then we agreed how the partnership should be conducted.
He added, "We also feel that, although it's a happy situation, there are a lot of theatre companies right now. And there is only so much pie that you can cut on. Rather than compete, we would rather just join forces, come out with a really strong production and not have to divide the audience.
The musical Peter Pan that they will be presenting will be a different version compared to the earlier versions where the lead actor Peter Pan is played by a female.
"This is not the Peter Pan na traditional who starred Mary Martin. Some of the younger ones are aware that there is a version na lalake ang gumaganap and it was written by Anthony Drewe. He's the same guy who wrote the musical Honk and recently Mary Poppins," Audie clarified.
Audie added, "It's a more contemporary take. When we listened to the music, kakaiba siya. Mas modern. And it will be perfect for Sam. This will be more contemporary. It's a little bit more mature version but it will still be for the whole family."
Sam Concepcion though won't be able to perform the projected 40 performances scheduled next year. Repertory and STAGES are still looking for another actor of the same caliber to alternate with the teen singer.
ADVERTISEMENT - CONTINUE READING BELOW
"Naghahanap pa kami. If he could play all the shows, he will. But it's gonna be very taxing. There will be shows na dalawa in a day. Baka mamatay si Sam sa pagod.
"When you have a star like Sam in the title role, it's hard to find an alternate na taga-teatro lang. He will suffer in comparison. Not in talent. So, we're trying to find someone who has the same status. We have a few candidates. We are talking to one boy. It's just a matter of finding an alternate. Very showbiz yung tao na 'yun. Sana lang pumayag siya."
UPCOMING MUSICAL. Besides the partnership with Repertory, STAGES will still mount its own production in 2011.
"STAGES is going to mount the Tony-award winning musical called Light in the Piazza. It's gonna be staged ahead. It will be in July at the Meralco Theatre also. And it's gonna star Karylle," Audie revealed.
They are also looking for a foreign actor to pair with Karylle since the lead character is an Italian singer with a good voice.
"It's a beautiful romantic musical that's about a budding affair in Italy. It's doubly challenging for us. I'm sure all the women will swoon over this show," said Audie excitedly.