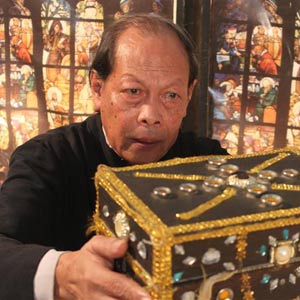 ---
Two years ago, theater critic Gibbs Cadiz wrote this about Joe Gruta's performance in Tanghalang Pilipino's Mga Gerilya sa Powell Street, "Artless yet howlingly funny, his portrayal of a proud former guerilla and military man reduced to begging for WWII benefits in chilly San Francisco is one of the most delicious yet heart breaking performances we've seen in many a theater season. Vintage rocks, in the grizzled Gruta's case."

When interviewed recently, the seasoned thespian gave a big smile as he held a copy of the review that touted his performance as one of the twelve year's best in 2008.

Gruta fondly recalls that his entry to the world of theater took place by accident.

"It happened in 1969," he distinctly remembers. "There was a co-production between PAL and PETA. At the time they were doing The Visit, I'm not included in the play since what I do for the company was to solicit advertising for the programs."
ADVERTISEMENT - CONTINUE READING BELOW

"Vic Silayan's co actor got sick and this happened fourteen days before the show. Mrs. Cecile Guidote Alvarez panicked and pulled me out from my soliciting job. She felt I was fit for the part and since then, I have never stopped," he points out.

"Theater is my first love," Joe admits. "A few minutes before a performance, I still get nervous. The moment I step on stage, however, and I feel the lights on my skin, wala na ang kaba, ako na yung character."

He adds, "Nothing beats the feeling of hearing the applause of people after a show. Hanggang ngayon, nothing beats that satisfaction. Tapos ganito, you get to read a positive review, mas lalong nawawala ang pagod ko. My decision to make theater as my vocation is affirmed. Tama pala ang choice ko"

His favorite plays include, "Ang Paglilitis ng Mang Serapio is definitely the first. It started as classroom production by Paul Dumol. Then, he was invited to stage it in PETA. I was the original Serapio, and we did three versions," recalls Gruta.
ADVERTISEMENT - CONTINUE READING BELOW

"Second, the Caucasian Chalk Circle, Fritz Benovitz went to Manila to direct it. They were rehearsing already for two months and because of a career problem, the lead actor cannot do his role anymore. I was already in advertising that time. The PETA people convinced me to take over. It was not difficult to convince me since mahal ko ang theater, e. When director Benovitz saw me, he said you should have been the first one to do the role," he carries on.

His final choice: "Mariano Alvarez for the play Andres Bonifacio. It was memorable for me because of the circumstances surrounding Alvarez and the controversy that he was embroiled in, since the play tackled about Bonifacio's trial."

After a decade and three years, Gruta is back on the Gantimpala stage, portraying the role of Padre Florentino, in El Filibusterismo.

El Filibusterismo, Dr. Jose Rizal's literary opus is penned by playwright Jomar Fleras, under the direction of Roobak Valle. This is the final installment of Gantimpala Theater's Four Classics.
ADVERTISEMENT - CONTINUE READING BELOW

"My first play with Gantimpala, Bulwagan pa siya at the CCP, yung Kanser, I portrayed Pilosopong Tasyo," he relates. "After that, I did majority of my plays with them. My last was Lualhati sa Kaitaasan, with Spanky Manikan and Mia Gutierrez under Joel Lamangan's direction. When we transferred at the MET, I directed some of their laboratory projects," he narrates.

"I've done this before but I'm excited to this because it is a very challenging character and I like the manner Roobak Valle is directing it," Joe enthuses. "Padre Florentino represents the Filipino priest. He knows the secrets of Simoun, even his back story. He is very intelligent and has a bigger capacity to understand the weaknesses of men."

What can we expect from your portrayal of Florentino? "The same," he answers quickly. "Whatever passion I gave it before, I'm giving it again. My passion for acting has never wavered. You will definitely feel my passion coming out from Florentino."
ADVERTISEMENT - CONTINUE READING BELOW

Gantimpala Theater's El Filibusterismo is showing on November 7 at the Open Air Auditorium, 6 pm, Luneta, Manila. It will also be staged on November 12, 13 and 14, (10am/2pm), SM Southmall in Las Piñas, November 20, 21, 27 and 28 (10am/2pm) at the AFP Theater in Quezon City.

For information, bookings and ticket reservations, please call Tel. Nos. 899-5745, 896-3503, or 998-56-22.