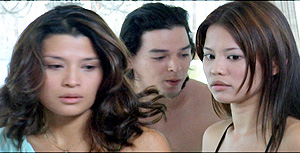 ---
Veering away from the stereotypical portrayal of lesbian women, thelead characters played by Mylene Dizon and Andrea del Rosario sportflowing hair and have ultra-feminine wardrobe—a far cry from the"butch" look usually associated with lesbians.
Directed by Connie Macatuno, the 2006 Cinema One Originals entry Rome and Juliet is an updated version of William Shakespeare's tragedy, Romeo and Juliet.
This three-hour digital film follows the journey of self-discoverybetween two women and the resulting consequences of their actions. Rome(Mylene) is a florist and wedding planner who is tasked to prepare thenuptial of Juliet Flores (Andrea) and councilor Marc Villaluna (RafaelRosell).
While preparing for the wedding, the lead female characters develop adeep friendship and a soulful connection leading to a love that isphysically consummated.
After the premiere of Rome and Juliet last November 24 atRobinsons Galleria, Philippine Entertainment Portal (PEP) asked Andreahow she managed to complete her love scene with Mylene. The formermember of the Viva Hot Babes said, "We just tried to bond, me andMylene. Then I pretended like I'm kissing another man."
ADVERTISEMENT - CONTINUE READING BELOW
Mylene admitted to PEP that she herself employed a similar techniquewhile doing the love scene (and shower scene!) with Andrea. "Whenever Iwould look at Andrea, kailangan tingin ko sa kanya [isang] lalaki.Nag-i-imagine ako kung sino yung crush ko…sino yung type ko at themoment…ini-imagine ko si Andrea yun."
"That's the only way for me to do what I did," said Mylene, who wasnamed Best Actress during the awarding ceremony of the Cinema OneOriginals film fest at Teatrino in Greenhills last November 26.
Rome and Juliet was one of the seven digital films incompetition for the 2006 Cinema One Originals, a contest sponsored bythe cable channel after which it is named. Now on its second year, thefilm festival had its run last November 24-26 at the Indie Sine (Cinema8) of Robinsons Galleria.