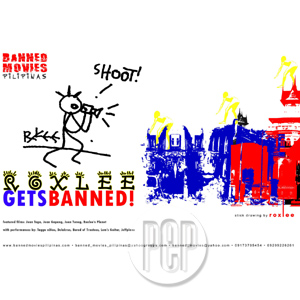 ---
Banned Movies Pilipinas, an independent film and music vehicle and home of indie film premieres, will hold its June screening entitled "Every Juan is invited: Roxlee gets banned!"
Pinoy indie icon Roxlee is the fourth filmmaker to be featured by Banned Movies Pilipinas (BMP) this coming June 15, 8 p.m. onwards at Freedom Bar in Anonas, Quezon City. Last month's theme was "Vote For Meyor: Sanchez Gets Banned!" held last May 19 at Freedom Bar in Anonas Quezon City. The works of advocacy filmmaker Seymour Barros Sanchez were screened last May. Internationally acclaimed filmmakers John Torres (in January), Jobin Ballesteros, Janus Victoria (in February) and Khavn dela Cruz (in March) were also previously featured by BMP.


Hailed as the ultimate Renaissance man and the face of Pinoy indie, Roxlee is an award-winning and renowned Filipino animator and filmmaker, cartoonist, artist and rock star, and more. The man who created "Cesar Asar" and "Santingwa" together with his brother Mon Lee, is also a founding member of Animagination, a group of Filipino animators.
Roxlee picked up his first Gawad Urian award for Best Short film for Juan Gapang, a collaborative effort and went on to make Juan Toga, Juan Gulay, and Juan Tunog. He has also exhibited his oil paintings in Singapore, and was invited to stage the world premiere of RoxLee's Planet as part of the Singapore International Film Festival. His alter ego Akira Brocka is also a member of The Brockas, a rock band composed of fellow filmmakers, writers and artists.


On June 15, at 8 p.m. onwards, Banned Movies Pilipinas will screen the short films of this legendary Pinoy Icon, in an unforgettable event that brings together the best and the brightest in the indie circuit. Watch out for The Brockas, Taggu nDios, Delakrus, Jeffplane, Bored of Trustees, Lem's Guitar, Girls Make Me Cry, Folly, Soul Kitchen, Lagkitan, Uprising and other up and coming acts that will rock the Planet.

ADVERTISEMENT - CONTINUE READING BELOW
Tickets are sold at P100 each. For ticket inquiries, please call 0917-3705454 or 0920-9226261.
Screening Date: June 15 (8 p.m. onwards)
Venue: Freedom Bar, 2nd Level, Anonas Commercial Complex, Anonas St. corner Aurora Blvd., Quezon City