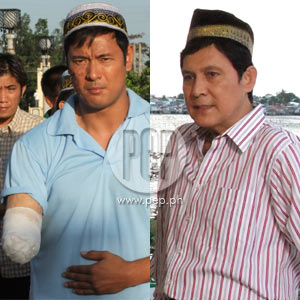 ---
The rising number of journalists being killed in the Philippines prompted director Joel Lamangan and screenwriter Boni Ilagan to collaborate for a film that aims to raise awareness about this disturbing trend.

The Ampatuan massacre in 2009 turned the Philippines into the world's most dangerous country for journalists, surpassing even war-torn Iraq. This is based on research by the New York-based group, Committee to Protect Journalists (CPJ). The independent, nonprofit organization even called the massacre "the single worst mass killing of journalists in history."

As a result, Direk Joel teamed up with AEI Productions and XITI Films to create Deadline, an indie film that aims to be an eye-opener about media killings and warlordism in the Philippines.
In Deadline (international title: Reign of Impunity), Allen Dizon, Ina Feleo, Luis Alandy, TJ Trinidad and Lovi Poe portray journalists whose lives are in danger for exposing the truth about warlords. In the Philippines, this term refers to powerful politicians who maintain control over a certain province through a heavily-armed private army.

"Napakasakit para sa ating mga Pilipino na nakakatakot na ang Pilipinas. Pati tayo nahihiya sa ibang mga bansa. Siyempre dapat affected tayo kasi Pilipino tayo," says lead actor Allen Dizon, who is cast as Azad Zinan, a journalist based in Mindanao.

Allen's character incurs the wrath of Governor Muntazir Ghazi (portrayed by Tirso Cruz III). For this reason, Azad and his girlfriend Claire Pasilan (portrayed by Ina Feleo) are hunted down by the henchmen of the warlord.

The abusive governor is a close ally of the Philippine president and his private army was created with the support of the national government.


(CLICK HERE to read related article)


The governor's influence extends even up to Metro Manila where he orders the execution of Henry Rosales (portrayed by Luis Alandy), the president of the Philippine League of Journalists.

TV journalist Greta Manarang (portrayed by Lovi Poe) is heartbroken by the death of her fiancé Henry, prompting her to do an investigative report on his death. She crosses paths with Ross Rivera (portrayed by TJ Trinidad), a pro-administration reporter who eventually helps her search for justice.
ADVERTISEMENT - CONTINUE READING BELOW
Raquel Villavicencio is cast as the mother of Azad (Allen) while Tony Mabesa plays the editor of the newspaper where Ross works. John Apacible, Richard Quan and Benjie Felipe serve as the governor's henchmen.

FILM WITH A MISSION. This political thriller is a timely homage to the many journalists who have sacrificed their lives in pursuit of the truth.

Lead actor Allen Dizon believes that creating films like Deadline will raise awareness among viewers and will hopefully lead to a peaceful solution in the future.

"Para sa akin, kailangang gawin ang pelikula na ito kasi pag napag-usapan ito, yung mga gumagawa ng pagpaslang sa mga media, baka mabawasan. Sana totally wala nang mapatay.

"Dito kasi sa atin pag hindi napapag-usapan, binabalewala. Itong Deadline, para ito sa mga biktima ng mga media killings, especially ang Ampatuan massacre."

Allen also hopes that politicians realize that journalists are only doing their job—to report about people and events as accurately as possible.

"Hindi porke't all powerful sila, may pera sila, huwag naman nila idaan sa pagpaslang. Sana isipin rin nila ang ibang tao kasi nagtatrabaho lang sila para sa kanilang pamilya, para sa bansa," he points out.

Just like Allen, TJ Trinidad also believes that Deadline has a powerful message that needs to be shared to viewers.

"I love what the movie is trying to tell. I think something as socially relevant as this film needs to be told.

"People really need to know more about these things and why these things happen...it's important for them to know who are the victims and why do they get victimized."

Since TJ has already tried directing through his full-length film MKAK, how has this helped him in the craft of acting?

"It changed a lot with regards to understanding the process of casting scenes. As an actor, I have a deeper appreciation of the whole thing-from pre-production to post. Dati, papasok ka lang sa eksena at aarte ka lang.

"When you do a TV show, because of the time constraints you have certain limitations and they can be good or bad. It's good because it forces you to be more creative to be able to tell the story in a short span of time. It's bad kasi nakakapagod. Every day, you do 20 to 30 sequences a day as opposed to doing a few sequences in a film," he explained.

Veteran broadcast journalists Cheche Lazaro and Ted Failon showed their support for this film by making cameo appearances in Deadline, which is slated to open soon in Philippine cinemas.
ADVERTISEMENT - CONTINUE READING BELOW