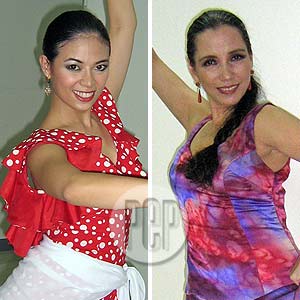 ---
When Sangre Flamenco was shown last June 3 at SM Mall of Asia's CenterStage, among those spotted watching the show were Winnie Monsod as well as Richard Gomez and Lucy Torres with their daughter Julianna.
This production was staged by Clara Ramona and Co. It took Clara four weeks to prepare for this one-night event.
Besides the anticipated flamenco, the dance group also gave a rendition of pandanggo sa ilaw. Wearing clothes seemingly at odds with bright flamenco costumes, the troupe alluringly performed the local dance. The sequence, according to Clara, showed a life marked by two cultures.
"My Philippine heritage is a strong part of me. But I have also adopted my husband's culture," says the world-renowned dancer and choreographer.
The willowy flamenco artist used to do ballet and traditional dance in the Philippines. After meeting her Spanish husband, legendary flamenco star Ramon de los Reyes, Clara began her 30-year-old affair with the gypsy dance. She spent most of her life teaching and paving the way for flamenco in Asia.
"You must dedicate eighty percent of your time [to flamenco]. That's why it's only for crazy people like me," she told PEP (Philippine Entertainment Portal) in an exclusive interview backstage after the show.
Aside from Clara, another "crazy" person stood out. One of her students, indie actress Liza Diño—who appeared in Compound, Rome and Juliet, and Baliw—also strutted her talent for flamenco.
Liza claimed she learned flamenco over only a year and three months, but her confidence and stage presence showed otherwise. "I was captivated by the intensity. I started December and I never stopped."
ADVERTISEMENT - CONTINUE READING BELOW
She added that flamenco is an invaluable support for her acting since the dance serves as an "outlet" for her intense feelings.
Throughout the three-hour performance, Clara's students swayed limbs, shawls, and skirts, dancing gracefully to their instructor's choreography.
The show started with the theatrical Inspiracion Danza Flamenco. Then the dancers took turns in Infusion, a mishmash of gypsy, Arabis, Filipino, and contemporary moves. A rendition of Maurice Ravel's classic Bolero followed.
Flamenco Cotidiano, a poignant exhibition of flamenco forms was the grand finale. For the last dance, the teacher herself took center stage. Graceful as always, Clara carried out hip and hand movements as if in a trance. She achieved each step as if it were natural motion, a way of being true to oneself. "It's life and death for me," she said during the interview. "It's what I am."
This, perhaps, was Sangre Flamenco's charm, an honesty revealing glimpses of one's personality. It showed both Clara's patriotism and Liza's passionate art. "Flamenco is very personal, you can't get away doing something technical," explains Liza. "It's yourself—when you dance, you do it with your feelings."