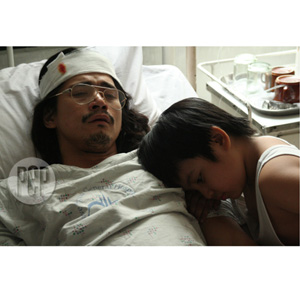 ---
Call it coincidence—this writer happened to write this review on Father's Day. It's ironic that the movie Blackout is actually about a father who is less than exemplary.
A long-haired, bespectacled Robin Padilla dons his "bad boy" image again for this psychological thriller directed by Ato Bautista. Robin plays Gil Blanco, a drunkard and chain-smoker single-handedly raising his 7-year-old son Niño (John Michael Reyes). His drinking habit causes his wife to leave him, pushing him further into depression. The only person able to cheer him up is his hyperactive son whom Gil sends to school every day.
Apart from his dependence on the bottle, Gil is also afflicted with recurring blackouts (hence the title of the movie). When he passes out, he wakes up several hours later with no recollection of the previous events.
One night, he finds blood on the bumper of his car and the lifeless body of a child under the hood. The next day, Belen (Iza Calzado) asks him if Gil, the landlord, has seen her missing child Isabel (Ella Guevarra). Thus begins the mystery and the psychological drama of Blackout.
Director Ato Bautista manages to blur the lines between reality and hallucination, making the viewer feel just as disoriented as the main character. Unusual camera angles and rapid cuts to mimic blinking allow the viewer to visually experience Gil's confused state of mind.
Blackout has its technical merits but there are noticeable "black holes" in the story line. Until the end, some questions remain unanswered: What triggered Gil's defense mechanism of blacking out? Did Gil's wife really leave him or did she pass away? How could he mistake the identity of his one child for another?
Robin assumes a totally different persona in this movie—he is despondent, paranoid, and very unsure of himself and his actions—a complete reversal of his usual roles as a swaggering macho man.
ADVERTISEMENT - CONTINUE READING BELOW
Iza dresses down to become a domestic mother, complete in her house duster and a fierce motherly instinct. She does a fine job of injecting her own dose of insanity to her role as Belen.
Blackout, a Unitel Pictures/Unico Entertainment production, is now showing at the following SM cinemas: North Edsa, Megamall, Fairview, Southmall, San Lazaro, Centerpoint, Mall of Asia, Bacoor, Sucat, Bicutan, Valenzuela, Molino, and Sta. Rosa.