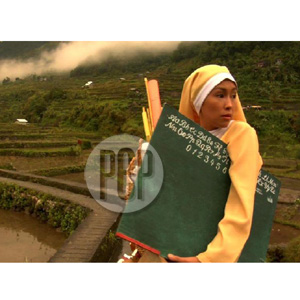 ---
Set in the majestic rice terraces, Haw-Ang (English title: Before Harvest) is a new indie film advocating children's right to quality education, empowerment of women, and welfare of our indigenous countrymen. It tells the story of Sister Adel, a light-hearted young nun who goes to a farming village in Ifugao to teach catechism and eventually build a schoolhouse. As she breaks the traditions of the tribe, she makes a big difference in the little lives of its people, especially that of Dacmay, a seven-year-old rowdy girl in search of her lost mother's love. At the same time, Sister Adel finally discovers her real mission in life.
This is a poignant story of friendship and love that transcends age, culture, and belief. A tale that is at times comic and inevitably tragic, this is a film about being a woman, and more importantly, being human. It all begins at the time of preparing rice paddies for planting, in that season of hopes and dreams called "haw-ang."
Produced by Sizzling Gambas Productions, Inc. and co-presented by UniversiTV, Haw-Ang marks the directorial debut of Bong Ramos, a seasoned writer-line producer for television and movies. Sister Adel is played by Kalila Aguilos (Sa North Diversion Road, Ligalig, Inang Yaya), a veteran theater and indie film actress. The film features a support cast that includes Neil Ryan Sese (Ang Pagdadalaga ni Maximo Oliveros) and Pinoy Big Brother Season 1 ex-housemate Racquel Reyes. Haw-Ang also proudly brings to the world of cinema the talent of Dacmay Tangliban (who plays Dacmay) and the other Ifugao children of the Tuwali tribe.
Haw-Ang will have its world premiere at the 3rd Cinemalaya Philippine Independent Film Festival on July 26 at the Cultural Center of the Philippines. The film is set for nationwide commercial release at SM Digital Cinemas on August 8 and will also enter the international film festival circuit very soon.
ADVERTISEMENT - CONTINUE READING BELOW
An advance screening (limited slots, free admission) will be held on June 19, Tuesday, 5:00 p.m., at Mag:net Cafe, Katipunan Ave., Quezon City (across Miriam College).
For inquiries, please call 9293191.
Haw-Ang (Before Harvest) (2007)
Director: Bong Ramos
Writers: Bong Ramos and Murphy Redd
Producer: Dane Lyons (Sizzling Gambas Productions, Inc.)
Cast: Kalila Aguilos (Sister Adel), Neil Ryan Sese (Isagani), Racquel Reyes (Sister Milagros), Fonz Deza (Kapitan Aliguyon), and introducing Dacmay Tangliban (Dacmay)
Free admission.
Screening date: June 19, 5:00 p.m.
Venue: Mag:net Cafe, Katipunan Ave., Quezon City (across Miriam College)