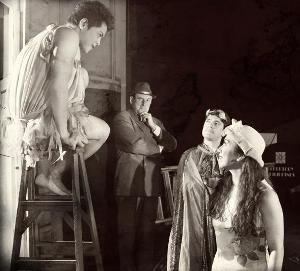 ---
PRESS STATEMENT FROM REPERTORY PHILIPPINES:

"For anyone who wants some painless lessons in Shakespeare and some good laughs, catch Shakespeare in Hollywood, the latest offering of Repertory Philippines 2011 Season. It will be performed at Onstage, Greenbelt 1, Makati City from April 1-17, 2011.
"Winner of the Helen Hayes Award for Best New Play (2004), Shakespeare in Hollywood is Ken Ludwig's comedy tale set in 1930s Hollywood about the making of the Warner Brothers 1935 movie version of Shakespeare's A Midsummer Night's Dream but is served with a twist!
"The 'real' Oberon and Puck from Shakespeare's day have taken a wrong turn in their time travel and have landed right on the sound stage of a Burbank lot, just before shooting begins. As luck would have it, Victor Jory, who was to play Oberon, walks off the picture and Mickey Rooney, who is to play Puck, has broken his leg. Max Reinhardt is ecstatic to have two wonderful, real Shakespearean actors.


"What follows is a farce that involves the likes of Will Hayes, Joe E. Brown, Jimmy Cagney, Dick Powell, Louella Parsons, Olivia De Havilland, the bimbo Lydia and the Warner brothers. It also involves that famous flower that makes the first person you see upon awaking fall immediately in love with you.
"Jaime Del Mundo who is directing this play has assembled a classy cast of movieland characters who are all in sync with the fast, furious pace and comedic timing of Shakespeare in Hollywood.

"Hans Eckstein takes the lead as the 'real' Oberon. He has the perfect speech for Shakespeare's words as he speaks various lines from the play.
"Red Concepcion plays Puck like a British punk star. He is delightful with his speech inflections and jaunty movements on stage.

"Robie Zialcita brings both vision and reality to Max Reinhardt. His nervous fits as a European director trying to helm an American movie are par excellence.
ADVERTISEMENT - CONTINUE READING BELOW
"Arnel Carrion is spot on as Jack Warner. He portrays the man with the right amount of skepticism and hounding, yet is meek and mild with his brothers and his movie star bimbo girlfriend.
"Caisa Borromeo plays the new young actress from the midwest, Olivia, with appropriate sincerity.
"Cris Villonco plays Lydia like a true Hollywood blonde bimbo, destined only to play in sexual films. Her recitation of the Bard's word backwards is going to be a howl with the audience.
"Miguel Faustmann is a hilarious Will Hayes.
"Joy Virata is the very beautiful Louella Parsons.
"Reuben Uy does a fine job as the loveable Dick Powell using some of the mannerisms that Powell used in the early Warner films.
"Topper Fabregas plays Jack Warner's yes man Daryl perfectly, bowing and scraping before the great man.
"Rem Zamora plays a good Cagney.
"Nic Campos is Joe E. Brown. He looks like the famous '30s comedian and he has all of the mannerisms down pat.
"Co-presented by Enderun and the City of Makati, Shakespeare in Hollywood is a must-see farce full of slapstick-style humor with ludicrous puns, hackneyed jokes and pure pandemonium.
"The rollicking production plays through April 1- 17, 2011 with shows on Fridays and Saturdays at 8:00 p.m. and matinee shows on Saturdays and Sundays at 3:30 p.m. All performances are at Onstage, Greenbelt 1, Makati City.
"For tickets, inquiries and other information, call Repertory Philippines at 571-6926 and 571-4941 or email info@repertory.ph. Tickets are also available at Ticketworld at 891-9999.

"Shakespeare in Hollywood is presented by special arrangement with Samuel French Limited."





Ed's Note: When content falls under "Press Statement," this means that the material is fully and directly from the company itself. The use of open-and-close quotation marks to envelope the entire text shows as much. This also means that PEP is not the author of the statement being read. PEP is simply providing the information for readers who may be interested.
ADVERTISEMENT - CONTINUE READING BELOW