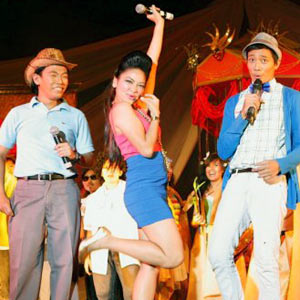 ---


PRESS STATEMENT FROM SAMASKOM:
"Live A.I.D.S. (Ang Istoryang Dinebelop ng SAMASKOM) is a musical-comedy-variety show written, choreographed, directed, and produced by the members of UP SAMASKOM, a student organization based in the UP College of Mass Communication. Its debut in 1985 gave birth to one of the most anticipated events in Diliman.
"Live A.I.D.S. performances gain popularity year after year, bringing laughter to students, faculty, and other members of the audience who want funny, smart and relevant entertainment.
"The secret of its success lies in the incredible talent and camaraderie among the members. Live A.I.D.S has never failed to attract a record number of fans who are eager to see hilarious spoofs of current events, television commercials, newsmakers, as well as exciting production numbers with original musical scoring and choreography.
"This year, UP SAMASKOM brings you Live A.I.D.S. 27: Jokebox Musical on April 9, 10 and 11 at the UP Abelardo Hall Theater. This year's installment of Live A.I.D.S., inspired by the cult classic, Wizard of Oz, is a jukebox musical highlighted by using live music throughout the show. Everyone can expect the political satires and social commentaries infused with the Live A.I.D.S brand of humor.
"Don't miss this show! Watch it on April 9-11, 2011, Abelardo Hall, College of Music, UP Diliman. Magpasikat na!
"For ticket reservations, please contact 0915-9310336.
"Visit upsamaskom.tk, like the official UP Samaskom Live AIDS on facebook, and follow @Live_AIDS on twitter for more details."



Ed's Note: When content falls under "Press Statement," this means that the material is fully and directly from the company itself. The use of open-and-close quotation marks to envelope the entire text shows as much. This also means that PEP is not the author of the statement being read. PEP is simply providing the information for readers who may be interested.


ADVERTISEMENT - CONTINUE READING BELOW