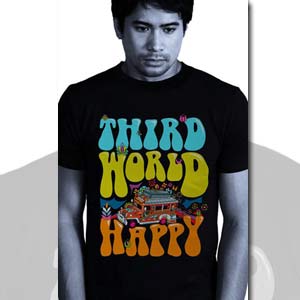 ---
PRESS STATEMENT FROM CINEMA ONE:
"Matinee idol Sam Milby's first Cinema One Originals movie Third World Happy will be seen in selected SM Theaters nationwide, beginning May 25 to 31.
"The story unfurls the simple life of a "balikbayan" named Wesley (played by Milby) who has left the Philippines and his girlfriend in order to pursue his dream of becoming a painter. Everything changes when he returns to attend a funeral and reunites with his friends. They help him shine some light on his struggles: to look at his loved one in the coffin, to finally say his last goodbye, to get on with his life and start chasing his dream again.
"Sta. Maria's role as Aylyn, Wesley's former girlfriend, manifests strength of women in facing heartbreak and family challenges, all at the same time. Here, Aylyn is a single mom, working hard as a teacher for her 13-year-old on son. As she meets Wesley again, after 13 years, she'll finally receive the explanation she has always been wanting—why she was left behind by her beloved guy.
"Kuya Danny (Richard Quan), on the other hand, has always been the supportive big brother of Wes, who never ventured on anything only for himself, but always for his family. Kuya Danny teaches Wes life's most important lesson.
"Third World Happy is directed and written by EJ Salcedo, who currently produces, writes and directs short films, TV commercials, corporate and music videos. He also directs for television.
"Milby's notable performance in the said film gained him a Best Actor nomination in the prestigious 34th Gawad Urian Awards of the Manunuri ng Pelikulang Pilipino. Sta. Maria earlier garnered a Best Supporting Actress trophy in the Cinema One Originals 2010 awards.
"Direk EJ says about this film: "This is a semi-autobiographical story. I combined homecoming and the stories of artists not being able to pursue their dreams to build the story of Third World Happy.
ADVERTISEMENT - CONTINUE READING BELOW
"What will moviegoers learn from movie Third World Happy? Direk Ej explained, "I wanted to tell this story to remind people that if they are given the chance to pursue their dreams, they should never waste it. Most people never get that chance."
"In a review published in South Korea's Jeonju International Film Festival website, Kim Se-jin said, "The film carefully unfolds Wesley's painful past one by one while he keeps meeting his close friends living a life different with the dreams which they had in their youth and his ex-lover which broke up with him when he left for the US. She is living her tough life with a 13-year-old son and her mother now. Finally, he confronts the weight of the heavy time lying between the one who left and the one who was left during the funeral. The film consoles the audience and Wesley by showing the sincere strength of the everyday life and the process of his reconciliation with his painful past."
"Catch Third World Happy in 10 selected SM Theaters nationwide: SM North Edsa, SM Megamall, SM Manila, SM Fairview, SM. Sta. Mesa, SM Southmall, SM Marikina, SM Cebu and SM Iloilo from May 25 to 31. Don't miss the fun and excitement of Sam Milby's Fans Day on May 25, 3 p.m. at SM North Edsa."
Ed's Note: When content falls under "Press Statement," this means that the material is fully and directly from the company itself. The use of open-and-close quotation marks to envelope the entire text shows as much. This also means that PEP is not the author of the statement being read. PEP is simply providing the information for readers who may be interested.