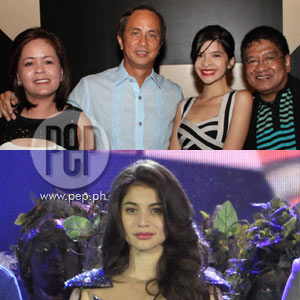 ---
Human rights are universal. All persons regardless of gender, race, religion, educational attainment, and social status are entitled to their basic rights as human beings. By the UN's International Declaration of Human Rights and by national laws, all citizens must enjoy these entitlements without discrimination or exemption.
Yet violations of human rights remain pervasive. Women are abused by their partners. Children are forced to work to provide for their impoverished families. Gays and lesbians are discriminated in the workplace and in society. Indigenous groups are stripped off their heritage. Journalists are slain for doing their job. The list goes on and on.
In light of these pressing issues, ANC (ABS-CBN News Channel) launches an omnibus film project titled Kinse. ANC gathers 15 filmmakers to make 15 short films, marking its 15th anniversary. Kinse aims to portray the different sides of human rights violations prevalent in the country today. This is ANC's follow-up to last year's AmBisyon 2010, a collection of short films about the state of the nation in connection with the May 2010 elections.
Some of the best shorts are the ones laden with humor. Erik Matti (director of Gagamboy, Pa-Siyam, and The Arrival) tackles the most fundamental right: the right to live freely. His short film titled Nang Tumambad ang Hubad na Katotohanan (The Stripped, Barenaked Truth) is about a wannabe actress asking permission from her parents to do a sexy film. The banter between the daughter and her parents is hilarious especially when Anne Curtis's character screams: "Gusto kong maghubad!" This short is the most entertaining out of the bunch. It is insightful without being preachy. This comedy also stars Gina Alajar and Rez Cortez.
Richard Somes (director of Yanggaw and Ishmael) and Jon Red (director of Utang ni Tatang, Astigmatism, and Ang Beerhouse) pack a one-two punch with their respective shorts that touch on children's rights. The first one is about two siblings scavenging for metal scraps. Despite its child labor theme, the short managed to remain light-hearted and funny. Having the same mood is Direk Jon's Absent, which narrates how a boy spends time with his father on the day he skips school. Despite its simple narrative, the film is effective in reminding us of the simple joys of bonding with family.
ADVERTISEMENT - CONTINUE READING BELOW
Meanwhile, filmmakers Ato Bautista (director of Di Natatapos Ang Gabi and a segment in Cinco), Raymund Amonoy (assistant director of ANC's Storyline), and Paulo Villaluna (director of Selda and Walang Hanggang Paalam, together with Ellen Ramos) explore the darker themes of human rights violations. Direk Ato's Pilay follows a crippled man searching for justice for his murdered sister. The short film plays with our notion of justice. Just as we think justice is served for one man, another man is denied justice. Pilay stars Cholo Barretto and Archie Adamos.
Direk Raymund's Ang Liham Para Kay Marco is a battered wife's love letter to her lover. The film shows us the price of domestic abuse. It stars Sue Prado. Direk Paulo's Intolerance, on the other hand, shows us the price of homophobia. It is about two best friends with one seemingly confused about his sexual orientation.
Kiri Dalena (director of ANC's Truths) and Mark Meily (director of Crying Ladies and Baler) tackle extrajudicial killings and freedom of press in their short films. Activist filmmaker Kiri names the slain journalists and victims of the Ampatuan massacre, while Direk Mark shows how a radio commentator is silenced for voicing his opinions.
Filmmakers Kidlat de Guia (documentary filmmaker and son of reknowned director Kidlat Tahimik) and Auraeus Solito (director of Ang Pagdadalaga ni Maximo Oliveros, Pisay, and Busong) aim their lens at one of the most neglected rights—the ancestral rights of indigenous peoples. Direk Kidlat talks about the cultural preservation of tribal communities, while Direk Auraeus portrays the struggle of the Sambilog tribe in claiming their ancestral domain.
Nico Puertollano's (New York-trained filmmaker and graphic artist) contribution to Kinse is very relevant considering the debate over the Reproductive Health Bill. His mini-documentary titled Labinlima is about a poor couple with 15 kids. Direk Nico interviews the head of the household about the use of contraceptives, her dreams for her children, and how they are struggling to make both ends meet.
ADVERTISEMENT - CONTINUE READING BELOW
Completing the list of filmmakers who have contributed their skills to this endeavor are Jim Libiran (Batch 2011), Raymond Red (Bangin), Ray Gibraltar (Ang Bayu ni Manilyn at Pekeng Duck), and Carlitos Siguion-Reyna (Choices).
This anthology of short films on human rights will be aired on ANC as a six-part TV special beginning this Monday, May 23, 9:30 PM. The TV presentation of Kinse will be hosted by actress and women's rights advocate Angel Aquino.