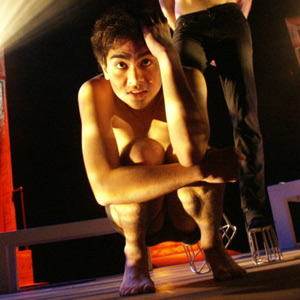 ---
Compared to last year's staging, this year's Gawad Buhay!, the Philstage Awards for the Performing Arts, was characteristically simple, done in more austere rites, last Wednesday night, May 25, at the Tanghalang Aurelio Tolentino (Little Theater) of the Cultural Center of the Philippines (CCP).

At 7 pm sharp, the ceremonies unfolded, right on the stage of the CCP Little Theater where the actors performed. Several media representatives were in attendance, including PEP.ph (Philippine Entertainment Portal).

It was a relatively "small event" with big surprises among theater people; or, more precisely, those associated with the Philstage theater companies whose 2010 productions were qualified for nominations and awards in different categories.

The Philstage member companies are: Ballet Manila, Ballet Philippines, the Gantimpala Theater Foundation, OPM (Organisasyon ng Pilipinong Mang-Aawit), PETA (Philippine Educational Theater Association), Repertory Philippines, and the Tanghalang Pilipino.


BIG WINNERS. The night's big winners were the productions of Repertory Philippines, Inc., particularly Equus, a straight play directed by Audie Gemora, and the musical Little Women, directed by Menchu Lauchengco-Yulo and starred actress-singer, Caisa Borromeo.


Both productions scored a total of 10 awards in various categories.
Not to be outdone, Tanghalang Pilipino of the Cultural Center of the Philippines also clinched ten awards in various categories, for its straight plays Tatlong Mariya (a Filipino adaptation of Anton Chekov's Three Sisters) and American Hwangap (Filipino translation of Korean Lloyd Suh's play); and the musical, Banaag At Sikat (an original musical adaptation, based on Lope K. Santos' novel).


For Equus, Repertory Philippines bagged five awards, including those for Outstanding Play, Direction (Audie Gemora), Costume Design (Dennis Lagdameo), Lighting Design (John Neil Batalla), and Sound Design (Jethro Joaquin).


Repertory's Little Women won awards for Outstanding Musical Production, Ensemble Performance, Female Lead (Caisa Borromeo), Female Featured Performance (Cara Barredo) and Musical Direction (Gerard Salonga).


Meanwhile, the 10 awards won by the Tanghalang Pilipino (TP) productions are as follows: for Banaag at Sikat, the Outstanding Original Libretto (Bienvenido Lumbera) and Outstanding Choreography for a Play or Musical (Edna Vida), both as lone nominee and eventual winner; for American Hwangap, the Outstanding Ensemble Performance in a Play and Outstanding Male Lead Performance in a Play (Mario O'Hara).


The veteran theater stalwart (and movie actor-director) also won the Outstanding Male Featured Performance in a Play, for TP's Tatlong Mariya; but Mario O'Hara didn't make it to the event to celebrate a "double victory."


For the top award, the Outstanding Play, the TP production, Tatlong Mariya, shared the honors with Rep's Equus.


But the lion's share of outstanding performances went to the former production, which won, aside from O'Hara's other 'win', the Outstanding Female Lead Performance in a Play (Mailes Kanapi) and the Outstanding Female Featured Performance in a Play, by stage and movie actress, Che Ramos.


"Ang tagal ko nang gustong manalo... finally, magi-speech na ako!" gushed the ever bubbly Che, to the amusement of everyone present. "I dedicate this trophy to my mother, whose real name is Erlinda; and to my 'lola' (grandmother), who is Ilocana. This is a homage..."


Che, who didn't forget to thank everyone,—including Dido dela Paz, "for teaching me my [Ilocano] accent" and Kalila Aguilos, "for making me really look ridiculous... with my Farrah Fawcett hair!", and her actor-boyfriend, Chrome Cosio— was referring to her character's name, Erlinda, in the TP play, set in a rural town up north during the turbulent years of the '70s.


It was adapted from the Russian novel by playwright Rody Vera who won the award for Outstanding Adaptation/Translation of a Play or Musical. Tatlong Mariya also won the Outstanding Set Design award for its director, Loy Arcenas.
ADVERTISEMENT - CONTINUE READING BELOW

"NO-SHOW." For whatever reason, both lead-performance winners of the Tanghalang Pilipino productions, Mario O'Hara, of American Hwangap; and Mailes Kanapi, of Tatlong Mariya, failed to make it to the event.

Actor-awardee Robert Seña, for PETA's Si Juan Tamad, Ang Diyablo, at ang Limang Milyong Boto, likewise, did a "no-show" at the affair. Sena won the Outstanding Male Lead Performance in a Musical award and sent a message of thanks, as read by a co-actor, on his and actress-wife Isay Alvarez's behalf. According to the message, the couple were still on vacation in Vietnam.

From the Repertory Philippines' group, Associate Artistic Director, Menchu Lauchengco-Yulo, who directed Little Women, was also absent to personally receive one of the top awards, as in last year's Gawad Buhay, when Rep's Sweeney Todd won several awards, including that of Menchu's best female lead performance.

Actor Rem Zamora delivered a "thank you" speech, for and in behalf of Rep and Ms. Menchu. He said, "Thank you daw sa Philstage and Baby Barredo 'for giving the trophy to her'; she (Menchu) apologizes for not being here—again!—and coming into Little Women was both exciting and scary because the show itself has a lot of problems.'"


Rem also shared Menchu's gladness "to have had a great artistic team, and a cast put all together. Maraming salamat po!"

It took several minutes for best stage director, Audie Gemora, to appear and receive his award; many thought the Equus director had already left when he was called as winner.


Audie was all smiles when he resurfaced, "We're just making kuwento there [backstage]," he explained. He shared his award with all the nominated directors, including Loy Arcenas (of Tatlong Mariya) who he thought would win as director, "and Menchu who worked very hard... (on Little Women), her first directorial (job) talaga sa Rep. I just want to share (the award) with all of you. Thank you so much!"
ADVERTISEMENT - CONTINUE READING BELOW

LIFETIME ACHIEVEMENT AWARDEES. The three-hour-plus presentation was also highlighted by the conferment of the Natatanging Gawad Buhay Lifetime Achievement Awards to four outstanding pillars of theater, music and dance, namely Antonio "Tony" Mabesa, founder of Dulaang UP, Ryan Cayabyab of the OPM (Organisasyon ng mga Pilipinong Mang-Aawit), Antonio "Tony" Espejo, of the Gantimpala Theater Foundation (GTF) and Ms. Liza Macuja-Elizalde, of Ballet Manila.

It was a night of nostalgia and significant tribute, with remarkable introductory speeches by artists who greatly valued and shared with everyone the contributions of each of the awardees, such as writer-director Floy Quintos and actress Irma Adlawan (for Tony Mabesa); theater actors and writers Cesar Cosme, Dindo Angeles and Jose Javier Reyes (for Tony Espejo); "Tata" Nanding Josef, Philstage President, and Ms. Celeste Legaspi, last year's Natatanging Gawad Buhay recipient (for Ryan Cayabyab); and classical dance couple, Edna Vida and Nonoy Froilan (for Liza Macuja-Elizalde).

PERFORMERS AND PRESENTERS. Other presenters (for individual/group categories) were: Vince de Jesus, Paul Alexander Morales, Liesl Batucan, Audie Gemora, Ms. Cecille B. Garucho, Gasbe Mercado, Pinky Marquez, National Artist for Literature Bienvenido Lumbera, and director Maribel Legarda, among others.
Performances (excerpts) were rendered by Caisa Borromeo, from the musical Little Women; the Ballet Philippines dancers, from Peter Pan, and Ms. Celeste Legaspi, who sang "Ang Mundo Ay Entablado" (lyrics by Jose Javier Reyes) with representative actors from Philstage member companies.

Here's the complete list of nominees and winners (in bold letters) of the Philstage 2010 Gawad Buhay! Awards for the Performing Arts.

NATATANGING GAWAD BUHAY! (Lifetime Achievement Awards)
Ryan Cayabyab
Tony Espejo
Lisa Macuja-Elizalde
Tony Mabesa

------------------------------------------------

OUTSTANDING PLAY (tie)
Equus, Repertory Philippines (winner)
Tatlong Mariya, Tanghalang Pilipino (winner)
American Hwangap (Filipino version), Tanghalang Pilipino (nominee)
Ang Post Office, PETA (nominee)

OUTSTANDING MUSICAL PRODUCTION
Little Women, Repertory Philippines
Romeo and Bernadette, Repertory Philippines
ADVERTISEMENT - CONTINUE READING BELOW

OUTSTANDING DANCE PRODUCTION
Crisostomo Ibarra, Ballet Philippines
Ballets and Ballads, Ballet Manila
Halo-Halo ni Juan, Ballet Manila
Neo-Filipino 2010, Ballet PhilippinesPeter Pan, Ballet Philippines
September Gala, Ballet Philippines


OUTSTANDING STAGE DIRECTION
Audie Gemora, Equus
Ana Abad Santos, Duets
Loy Arcenas, Tatlong Mariya
Lutgardo Labad, Ang Post Office
Menchu Lauchengco Yulo, Little Women


OUTSTANDING ENSEMBLE PERFORMANCE (Play)
American Hwangap
Duets
Tatlong Mariya


OUTSTANDING ENSEMBLE PERFORMANCE (Musical)
Little Women
Romeo and Bernadette

OUTSTANDING ENSEMBLE PERFORMANCE (Dance)
Peter Pan
Ballets and Ballads
Crisostomo Ibarra
Neo-Filipino 2010
September Gala

OUTSTANDING FEMALE LEAD PERFORMANCE IN A PLAY
Mailes Kanapi, Tatlong Mariya
Angeli Bayani, Tatlong Mariya
Gina Pareno, American Hwangap (Filipino version)
Joy Virata, Duets


OUTSTANDING MALE LEAD PERFORMANCE IN A PLAY
Mario O'Hara, American Hwangap (Filipino version)
Martin De Los Santos, Ang Post Office
Miguel Faustmann, Equus


OUTSTANDING FEMALE FEATURED PERFORMANCE IN A PLAY
Che Ramos, Tatlong Mariya
Liesl Batucan, American Hwangap (Filipino version)
Pheona Baranda, Equus


OUTSTANDING MALE FEATURED PERFORMANCE IN A PLAY
Mario O'Hara, Tatlong Mariya
Nicco Manalo, American H'wangap (Filipino version)


OUTSTANDING FEMALE LEAD PERFORMANCE IN A MUSICAL
Caisa Borromeo, Little Women
Ayen Munji-Laurel, Banaag at Sikat
Cris Villonco, Romeo and Bernadette


OUTSTANDING MALE LEAD PERFORMANCE IN A MUSICAL
Robert Seña, Si Juan Tamad, Ang Dyablo at ang Limang Milyong Boto
PJ Valerio, Romeo and Bernadette


OUTSTANDING FEMALE FEATURED PERFORMANCE IN A MUSICAL
Cara Barredo, Little Women
Angeli Bayani, Banaag at Sikat

OUTSTANDING MALE FEATURED PERFORMANCE IN A MUSICAL
No nominee


OUTSTANDING FEMALE LEAD PERFORMANCE IN A CLASSICAL DANCE PRODUCTION
Liza Macuja-Elizalde, The Nutcracker


OUTSTANDING MALE LEAD PERFORMANCE IN A CLASSICAL DANCE PRODUCTION
No nominee


OUTSTANDING FEMALE FEATURED PERFORMANCE IN A CLASSICAL DANCE PRODUCTION
Mylene Aggabao, The Nutcracker


OUTSTANDING MALE FEATURED PERFORMANCE IN A CLASSICAL DANCE PRODUCTION
No nominee


OUTSTANDING FEMALE LEAD PERFORMANCE IN A MODERN DANCE PRODUCTION
Candice Adea, September Gala
Candice Adea, Peter Pan
Lisa Macuja-Elizalde, Ballets and BalladsCamille Ordinario Joson, Neo-Filipino 2010


OUTSTANDING MALE LEAD PERFORMANCE IN A MODERN DANCE PRODUCTION
JM Cordero, Crisostomo Ibarra
JM Cordero, September GalaRudy De Dios, Ballets and Ballads
Rudy De Dios, Halo-Halo ni Juan
Cyril Fallar, Peter Pan


OUTSTANDING FEMALE FEATURED PERFORMANCE IN A MODERN DANCE PRODUCTIONCarissa Adea, Crisostomo Ibarra
Veronica Ylagan, Neo-Filipino 2010
ADVERTISEMENT - CONTINUE READING BELOW

OUTSTANDING MALE FEATURED PERFORMANCE IN A MODERN DANCE PRODUCTION Angel Gabriel, Crisostomo Ibarra
Richard Yadao, Peter Pan

OUTSTANDING ORIGINAL SCRIPT
No nominee


OUTSTANDING ORIGINAL LIBRETTO
Bienvenido Lumbera, Banaag at Sikat


OUTSTANDING ADAPTATION OR TRANSLATION
Rody Vera, Tatlong Mariya
Joi Barrios LeBlanc, American Hwangap (Filipino version)
Bienvenido Lumbera, Banaag at Sikat
Rody Vera, Ang Post Office


OUTSTANDING MUSICAL DIRECTIONGerard Salonga, Little Women
Jeff Hernandez, Ang Post Office


OUTSTANDING MUSICAL COMPOSITION
No nominee


OUTSTANDING CHOREOGRAPHY FOR A PLAY OR MUSICAL
Edna Vida, Banaag at Sikat

OUTSTANDING CHOREOGRAPHY FOR A DANCE PRODUCTION (tie)
Carlo Pacis, Shifting Wait
Edna Vida, Peter Pan
Carissa Adea, Rey-Sing
Novy Bereber, To Whom It May Concern
Augustus Damian III, Rebel
Augustus Damian III, Reconfigured
Cyril Fallar, Dancer's Crux
Alden Lugnasin, Words and Phrases


OUTSTANDING COSTUME DESIGN
Dennis Lagdameo, Equus
Joy Virata, Duets
Salvador Bernal, Banaag at Sikat

OUTSTANDING LIGHTING DESIGN
John Neil Batalla, Equus
John Neil Batalla, Little WomenMartin Esteva, Duets
Barbi Tan-Tiongco, Tatlong Mariya


OUTSTANDING SOUND DESIGN
Jethro Joaquin, Equus
Jethro Joaquin, Duets
Jethro Joaquin, Tatlong Mariya

OUTSTANDING SET DESIGN
Loy Arcenas, Tatlong Mariya
Dennis Lagdameo, EquusLex Marcos, Ang Post Office
Joey Mendoza, Little Women
Tuxqs Rutaquio, Duets