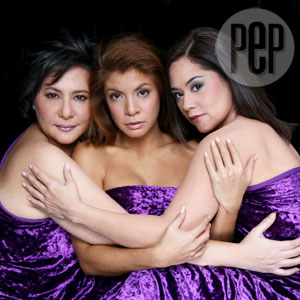 ---
The New Voice Company, the same group that brought The Vagina Monologues onstage, is restaging Eve Ensler's new play for one night only.
On December 8, Monique Wilson, Pinky Amador and Juno Henares will bring life to The Good Body, a compilation of monologues about women's tortured relationships with their weight, body image, and self-acceptance. Originally a monologue, Ensler reworked it for three voices.
The Good Body stars Amador as Eve Ensler, while Wilson and Henares play a variety of roles. The set is not complicated, and the actresses mostly wear black, merely adding an accessory or two when changing character. The play may have simple production values but its content and message are clearly deep and far-ranging.
Ultimately, the play aims to change our view of what it means to have a "good body."
The characters' varied voices highlight the basic insecurity and low self-worth that many women are riddled with, whether they live in urbanite Los Angeles or in patriarchal Afghanistan. If the play succeeds, it becomes a personal wake-up call for women to love the "good bodies" they possess.
ADVERTISEMENT - CONTINUE READING BELOW
The Good Body is being presented by the New Voice Company under the direction of Rito Asilo.
Performance date: December 8, 2006; 9 PM
Venue: Music Museum, Greenhills, San Juan
For ticket inquiries, call 8966695 / 8965497.