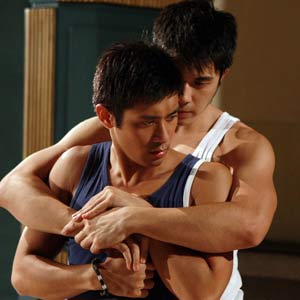 ---
Ang Sayaw ng Dalawang Kaliwang Paa takes a risk in fusing music, dance, and poetry to present the complications around the lives of three characters in a complex love triangle—and succeeds delightfully.
That is what literature, dance, and music, as separate art forms, are in fact supposed to do—explore an emotion, a character, a situation, a conflict.
In effect, director Alvin Yapan's Ang Sayaw ng Dalawang Kaliwang Paa attests to the power of filmmaking as the ultimate art form itself.
The movie is harrowing at times, delightful for the most part. It deals with feminism which is represented by the dark and sad Karen (played by Jean Garcia), a literature and dance teacher who becomes an object of attraction and curiosity of her students.
The film likewise touches on the subject of homosexuality, subtly executed by Dennis (Rocco Nacino) and Marlon (Paulo Avelino) who are both students of Karen.
The film opens with poetry: Karen is reading a poem to Dennis and Marlon's class. The poem aptly talks about desire, which the poetic persona articulates by "covering" her subject of affection with her "gaze" (binalot kita sa aking tingin).
The scene is interwoven with another—Marlon, later on, stalking his teacher as she comes to a studio where she conducts dance classes. As Marlon watches Karen, Dennis, who happens to assist at the studio, catches the smitten Marlon. The audience eventually becomes privy to who becomes the object of Dennis's "gaze".
To make up for his lack in Karen's subject and to score more time with her, Marlon attempts to dance. He asks Dennis to tutor him before classes start so as not to embarrass himself again. Dennis is kind enough to extend help and even plans a way to hold one-on-one sessions with Marlon at the studio sans the legit teacher.
ADVERTISEMENT - CONTINUE READING BELOW
In the course of their tutorial, Dennis and Marlon become intimate friends. Ironically their romance is limited to dancing as their physical contact is cut off once the music stops. Between the two boys, it is Dennis who initially has affections for Marlon, as suggested by his furtive glances and lingering gazing at his classmate. Marlon could be oblivious (or not) of this due to the full attention he has for Karen.
Karen, on the one hand, is not oblivious to Marlon's intentions as he eventually joins her class. Neither is she unaware of the recent stealthy dance tutorials at the studio. Depicted as an omniscient character, Karen is also cognizant of Dennis's feelings towards the blind Marlon. In class, she puts Marlon on the spot by announcing that he did rather well in the dance she was teaching and if only he had not sought Dennis's tutoring, it would have been more commendable.
When Marlon comes up to her to apologize, Karen confronts him by asking, "Hindi ka ba natatandaan sa akin?" Because he could not accept that he was embarrassed again, Marlon flees class and later blames Dennis for allegedly telling on him. A rift develops between the two boys.
Karan notices Marlon's absence in class and how he had given Dennis the cold shoulder. To fix the gap between them, she asks both boys to help her out at a cotillion. Here the two start fighting amidst the dancing until their bickering subsides. Karen invites both of them to her home and there announces that she was tasked to translate the Panay epic Humadapnon into dance.
This bridges the two once again as they become inspired to work on their auditions and eventual roles. Their audition, their own interpretation of a literary piece, moves Karen to tears and thus Dennis is cast as Sunmasakay and Marlon as Datu Humadapnon.
ADVERTISEMENT - CONTINUE READING BELOW
The film gets creative in interpreting this epic as it utilizes an episode where Nagmalitong Yawa, a feminine character, disguised as a man (Sunmasakay) saves Datu Humadapnon from being entrapped in a cave by a seductive tribe of women. This becomes an allegory for the brewing romance between Dennis and Marlon, something the latter boy is still indifferent to.
The love triangle with a twist ends on a poignant but happy note, as Marlon finally recognizes Dennis's true feelings for him. What makes him understand Dennis's affections is Sunmasakay's saving act, translated into music and danced to by Marlon and Dennis as Humadapnon and Sunmasakay.
Yapan's film is laudable for its subtlety. Dialogues are lines lifted from poetry; movement and melody combined stand for a higher form of interaction and communication between characters. Desire is explored in all its pain and pleasure.
Ang Sayaw ng Dalawang Kaliwang Paa will be screened at UP Diliman on July 26 (Tuesday) at 5 p.m.