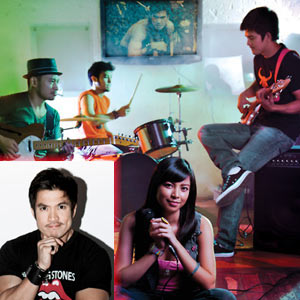 ---
A person reading a love letter addressed to herself would naturally feel flattered, giddy, and loved because of the sincere and adoring words, and sometimes, just because of the simple cheesy gesture.
Reading a love letter addressed to someone else would make one feel the same kilig, but minus the feeling of being loved by the writer, of course.
And then there's Rakenrol, a Valentine to Pinoy rock 'n' roll written by film director Quark Henares and Sandwich guitarist Diego Castillo. After six long years, the film finally made its Philippine debut during the 7th edition of the Cinemalaya Philippine Independent Film Festival.


From the sentimental look-back to the beginnings of a young boy's love for music, to its awkward and heartbreaking admission of love—with songs you could nod to all throughout—this is one sincere letter that goes out to fans of Pinoy rock 'n' roll as well.
It all starts with Odie (Jason Abalos), a fan of the underground music scene who later becomes a full-fledged musician, and his equally music-obsessed best friend Irene (Glaiza de Castro). As they exchange CDs and posters, listen to music together, and watch local gigs together, Odie falls in love with Irene but holds back, choosing to pour his feelings into songs he writes and records in his makeshift studio. While listening to one of Odie's songs, Irene convinces him to form their own band and record his creations to start them off.
They recruit Mo (Ketchup Eusebio), an ex-punk turned barista to be their lead guitarist, and Junfour (Alwyn Uytingco), a school bully, as their drummer. At their piss-infested first gig, they meet Matet de Leon, playing herself, who offers to become their manager.
Things look up for the band, which they decide to name "Hapipaks," as they start playing in more gigs and distributing their demo to radio stations. However, it all goes downhill when Irene meets her "all-time super crush" rock star Jacci Rocha (Diether Ocampo). Throughout the film, viewers will see how the newly minted band race past the hurdles of the local music scene. Meanwhile, Odie struggles with an unrequited love that attempts to break up what he and Irene started.
ADVERTISEMENT - CONTINUE READING BELOW
More than the boy-meets-girl, boy-and-girl-form-band, girl-falls-in-love-and-boy-feels-neglected plot, Rakenrol's strength lies in the natural acting abilities of its young cast. Jason is appropriately shy, if a little too awkward, as Odie. His geekyness and quiet charm makes him a believable musician who is too smitten with Glaiza, who may be lacking as a vocalist, but completely makes up for it with her beauty, quirkiness, and wide-eyed enthusiasm.
Meanwhile, Ketchup and Alwyn steal the show as the experienced musician and the newbie drummer with their banter and humor.
But it's Diether who takes the cake for playing a narcissistic rock star who's all hot air and no talent. Jacci's swagger and conceit makes one think that perhaps Diether should always play the cad in love triangles. It would be no wonder when people start repeating his outrageous lines.
Moviegoers should also watch for memorable appearances by Ramon Bautista, Jun Sabayton, Ricardo Cepeda, and surprising cameos by Pinoy rock icons.
Of course, it's impossible not to pay attention to the music of Rakenrol. As a tribute to the local rock scene, songs by the Eraserheads, Urbandub, Taken By Cars, Updharma Down, and more are naturally scattered all throughout the film, and consequently transport a music fan to the glory days of underground bands and legendary station NU 107.
While Hapipaks' "Oplan: Pag-Ibig" and "Alaala" haunt even after the film ends, it is the songs from way back, the clips of random local gigs, the brief expositions of popular culture and dated vocabulary, that make the moviegoer feel that this love letter is also written for him/herself who, like Odie and Irene, knows all these pop phenomena and more importantly, has always been there for the love of rock music.


Rakenrol is like a love letter that is meant to be shared, laughed about for its endearing sentiments, cried over for its heartbreaking but fitting resolve—all the while listening to a rocking soundtrack that must be played with the volume turned way up.
ADVERTISEMENT - CONTINUE READING BELOW
Rakenrol is currently being screened in cinemas.