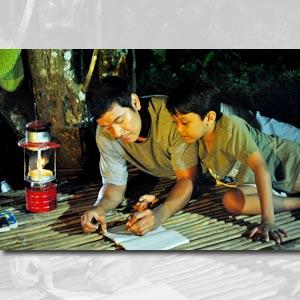 ---
Joel Lamangan's independent film Patikul, one of the entries in this year's Cinemalaya Philippine Independent Film Festival, has garnered mixed reviews from critics and casual viewers.
Some brand the project as "an explicit exercise of fakery," owing to the fact, among other arguments, that the movie was shot in a location near Metro Manila, and not in war-torn Sulu, Mindanao, as the title boldly highlights.
Others compare the movie to a television soap opera, based on the eventual twist of the story as the plot progresses to its affirmative conclusion.
There's nothing wrong with these observations as each viewer is entitled to his/her own interpretation of a film. And that's what makes the motion picture business more thrilling and colorful, to say the least.
INSPIRED BY REAL EVENTS. First, we must understand the conditions that shaped Patikul's storyline, as written by Kristoffer Brugada. (The screenplay clinched 1st place for the Dulang Pampelikula category of the 2010 Palanca Awards.)
The story tackles the longstanding conflict between government troops and Abu Sayyaf rebels, whose initial fight for autonomy has led, unfortunately, to terrorist tactics.
Brugada focuses on just one of the many consequences of this armed conflict on the innocent young people and residents caught in the crossfire—growing illiteracy brought about by interrupted education provided by schools.
The inspiration for Patikul was the 2009 gruesome murder of Kan-Ague Elementary School principal Gabriel "Bong" Canizares. He was abducted, and later beheaded by Abu Sayyaf bandits when the P2 million ransom was not given.
The incident prompted the Department of Education (DepEd) to suspend the classes of more than 50,000 school children in Sulu, stressing lack of protection provided by the military to teachers and instructors assigned in the area.
In February 2010, an article written by Milwida M. Guevara for the Philippine Daily Inquirer relayed how villagers and parents of the affected school children rallied together by serving as security escorts to ensure the safety of the teachers.
ADVERTISEMENT - CONTINUE READING BELOW
STRONG MESSAGE. Brugada tweaked the story a bit to add more drama to the already tragic story.
In the screenplay and film version, Kan-Ague Elementary School principal Michael Balmes (Marvin Agustin) chooses to ignore the perils of working in a war zone territory to fulfill his role as a dedicated teacher to impoverished students.
Balmes's commitment is reflected in how rigorously he trains and supports the regional quiz bee bid of his talented students Fahad (Martin delos Santos) and Alelie (Angeli Nicole Sanoy).
Following the demise of Balmes at the hands of his abductors, Fahad and Alelie still compete, both of them dedicating their efforts to their fallen mentor.
Fahad's illiterate father Amman (Allen Dizon), on the other hand, leads his fellow coffee farmers and villagers to escort the traumatized teachers everyday.
The people's initiative stems from their desire for the children continue schooling. They hope that education will give the younger generation better opportunities in life than they had.
That situation could have been worthy of a standard TV drama series had it not happened in real life.
And that for me is the strength of this movie, regardless of critics' opinions.
Patikul mirrors some social and political problems occurring in remote parts of this country. These are issues that we urbanites may be aware of but cannot grasp completely or concretely.
The problem of insurgency in Mindanao has been going on for decades and it would be difficult to present such a complex theme in a film that runs for less than two hours.
To its credit, Patikul presents that theme ably through the eyes of those who find themselves involved in the conflict.
The cast members—Marvin Agustin, Allen Dizon, Martin delos Santos, Angeli Nicole Sanoy, Glaiza de Castro, Ciara Sotto, Dimples Romana, among others—all deserve kudos for giving their best in creating their respective characters.
ADVERTISEMENT - CONTINUE READING BELOW
Patikul is not perfect, of course, and there are noticeable flaws in the script and acting along the way.
But the film succeeds in providing viewers a glimpse of the tragic reality about armed conflict and its effect on education, security, and welfare of innocent civilians.
There's nothing fake about that.
Patikul will be screened at UP Diliman Cine Adarna on August 4, 2011 at 8 pm.