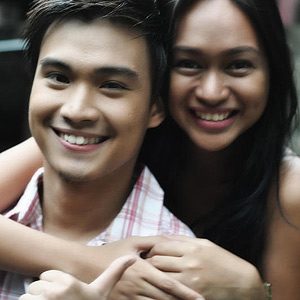 ---
Ligo Na U, Lapit Na Me promises to be one of the most enjoyable shows on local cinema this year, even though it has its share of flaws.
This 2011 Cinemalaya Philippine Independent Film Festival New Breed full-length feature entry is directed by first-time filmmaker Erick Salud. Ligo Na U, Lapit Na Me tells the story of Intoy or Karl Vladimir Lennon J. Villalobos (Edgar Allan Guzman) and his secret love for classmate Jenny (the mesmerizing Mercedes Cabral). The two are in a nearly romantic affair, involving economical motel escapades and a promise not to fall in love with each other. Intoy is about to reveal his affection for Jenny, but she beats him to the punch with her own confession: she is pregnant, and worse, it is not his child.
The narrative seems like your regular coming-of-age story, recounting Intoy's passage from childhood to adulthood. He is subjected to an initiatory experience, which leads to the loss of innocence and his transformation into an adult. Intoy not only gives up his virginity to Jenny, he also struggles with his first encounter with heartbreak. The hurtful experience, however, allows him to gain a stronger awareness not only of his identity, but also of the value of his community, as represented by his devout Christian parents and oddball neighbor (Victor Medina).
The relatively affecting story is enriched by an amusing amount of screwball lines and searing bed scenes.


Most of the lines can be attributed to the wit of Eros S. Atalia. The movie is based on the book of the Carlos Palanca Memorial Awards for Literature recipient. Atalia shows an appreciation for the humor of students along with its profanity and inanity, which is actually noteworthy considering it's his job to get them educated as a professor in a reputable Catholic university.
ADVERTISEMENT - CONTINUE READING BELOW
Throughout the film, he even pokes fun on teacher stereotypes, and these provide young viewers with a good quantity of giggles. The inside jokes are also not lost on the more seasoned audiences, as they are somehow brought back to the time when they had to sit through tiresome hours, listening to the monologue of professors and the only diversion is the tiniest smile from your prettiest classmate.
Edgar Allan Guzman gives us a charming performance. Intoy is at times vulnerable, mostly quirky, and unapologetically nonchalant. He is the student who doesn't care about his studies, the lover who ignores his love, the poor boy who gets laid with the rich girl. Of course, we all know that none of these is true—he is merely putting on a show to satisfy the rules of their relationship. He even admits this in cuss words to the audience, though Jenny must never, ever know.
While his portrayal of Intoy deserves credit—and he did get one in the form of a Cinemalaya Best Actor award in the New Breed Full-Length Category—Edgar still needs a couple of rehearsals to become an unaffected comedian. His delivery of jokes was sometimes too studied.
Mercedes Cabral, in contrast, should be credited for endowing the film with her innate sensuality and intensity. She is, all throughout the film, the source of restlessness and anticipation not only for Intoy but for the male viewers. It is quite regretful that the film did not delve much into the character of Jenny as her acting chops (she was nominated for a Gawad Urian in 2009) were sorely underutilized.
Though dubbed as a sex comedy, the movie's potency lies not in comicalness or provocativeness—it lies in its youthful willfulness, which is what really makes the characters both funny and sexy. Ligo Na U, Lapit Na Me is a reminder of the compelling desire that brought you to the University Belt, that made you speak out against a professor, and made you swear "aaaahhhh... lab na kita bhie" when you first saw your crush in PE uniform.
ADVERTISEMENT - CONTINUE READING BELOW
Ligo Na U, Lapit Na Me is the kind of film to that will keep your senses alive for weeks, and get you daydreaming about those good ole college days.


This movie will open in cinemas starting September 28, 2011.