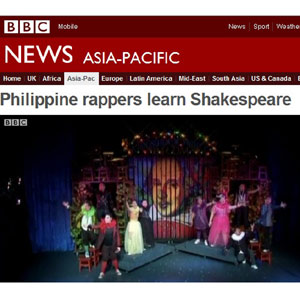 ---
PRESS STATEMENT FROM PETA:
"UK based broadcast news organization, BBC News, recently featured Philippine Educational Theater Association's (PETA) rap musical William. Marek Pruszewicz of BBC reports:
"A theatre group in the Philippines takes a modern twist on Shakespeare, reworking the classics into a modern rap musical. The aim is to help young people to understand the playwright. William shows real life problems encountered by real students when it comes to learning Shakespearean masterpieces." Using the fusion of classical rhythm of words with the youth's as rap, hip-hop and contemporary beats, PETA's newest play William re-introduces the Bard as a relatable "peer" whose works speak of issues which the youth can relate to.
"Reminiscent of today's popular TV musicals such as Glee and High School Musical, William is set in a high school in Metro Manila, where five young students are forced to study Shakespeare by their terror class adviser, Ms. Lutgarda Martinez.
"In the process of studying, the five students not only realize the beauty of Shakespeare's works but also discover themselves through Shakespeare's characters. The class muse, Sofia, finds out what true beauty is through Romeo and Juliet; the bully, TJ, encounters humility and grace through Hamlet; the brainy OFW's daughter, Estella, learns forgiveness while the student council leader, Richard, learns self-acceptance through Merchant of Venice; and a timid lad, Erwin, finds his voice through Julius Caesar.
"William features ten original rap songs composed by Jeff Hernandez. Songs such as "Pucha Bro", "Nosebleed", "O Shakespeare", "What's In A Name" are fusions of various music genres, like rock, soul, funk, RnB and hip-hop. William also utilizes an emerging form of rap, FlipTop, which is becoming more popular among today's youth. These rap numbers, choreographed by John Tan (from Urban Dance Crew), are performed along with various hip-hop forms, such as: crumping, breakdance, ballroom and jazz hip-hop.
ADVERTISEMENT - CONTINUE READING BELOW
"The musical touches on themes of adolescence, parents' unconditional love and friendship and promotes respect for teachers and classmates, and advocates love for reading and appreciating literature—Shakespeare or not.
"William is showing at the PETA Theater Center every Friday, Saturday and Sundays of September at 10:00A.M. and 3:00P.M. Tickets are Php350 (regular) and Php500 (vip). For inquiries and ticket reservations, contact PETA Marketing & PR Office at 725-6244 or 410-0821, 0917-5765400, petatheater@gmail.com"
Ed's Note: When content falls under "Press Statement," this means that the material is fully and directly from the company itself. The use of open-and-close quotation marks to envelope the entire text shows as much. This also means that PEP is not the author of the statement being read. PEP is simply providing the information for readers who may be interested.