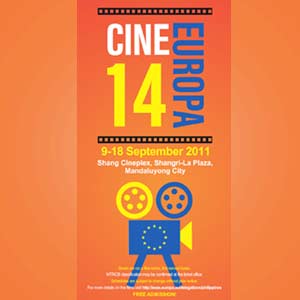 ---
On its 14th year, Cine Europa, the annual tradition of bringing quality European films to Manila, is now back. It will also be shown in Cagayan de Oro and Cebu.
Cine Europa opens in Manila on September 8, Thursday, with public screenings from September 9-18 in Shangri-La Plaza and then moves on to Liceo de Cagayan University, Cagayan de Oro, from September 23-25, and finally, to Cebu's Ayala Center Onstage, from September 20-October 2.
From just about 11 films in 1998, Cine Europa is now bringing 19 films from Austria, Belgium, Bulgaria, Czech Republic, Denmark, Finland, France, Germany, Greece, Italy, the Netherlands, Romania, Slovakia, Spain, Sweden, Switzerland, and the United Kingdom.
This year's Cine Europa has a very good mix of films of varying genres—from comedy, drama to history and thriller and, at the same time, showcases European's cultural tapestry and human experiences—love for country and family, migration, relationships, perseverance, struggle, hope, courage, faith, and victory.
Revenge and retribution is the name of the game in Austria's Die kleinen Räuber (Little Robbers), where siblings Robby and Louise attempt to rob the bank that forcibly banished their parents from their apartment after their father lost his job; and Belgium's Long Weekend, where two ex-factory workers kidnap their former boss to make him pay for the damages he caused his workers when his company went bankrupt.
Bulgaria's Letter to America follows Ivan, who visits ailing best friend Kamen's hometown in Bulgaria to seek an old song that might save her life; while Denmark's Flugten (The Escape) tells the tale of Danish journalist Rikke, who escapes after being kidnapped by an Afghan terrorist group—and encounters one of its members who threatened to kill her after her career has finally taken off.
In Italy's La Masseria Delle Allodole (The Lark Farm), brothers Aram and Assadour, who have not seen each other in a long time, attempt to reunite but get stuck in the travails of a war between countries. German period piece Goethe! chronicles German poet Johann's love affair with the beautiful yet feisty Lotte Buff, which ultimately inspired his literary masterpiece, The Sorrows of Young Werther.
ADVERTISEMENT - CONTINUE READING BELOW
Little Greek Godfather from Greece tragicomically tells the tale of California-bred Alex, who acts as a godfather to a child of an aspiring parliamentary deputy, in an attempt to prove himself a worthy son to his own father. Finland's Prinsessa revolves around the life of manic depressive Anna Lappalainen, who heals and brings joy to her fellow patients with her pleasant presence and personality despite being stigmatized by society for her condition.
How About Love, Switzerland's cinematic offering, is about heart surgeon Fritz, who finds himself torn between two commitments: helping refugees in Thailand and his responsibilities to his family. Based on the true stories of child soldiers, The Netherlands' Wit Licht (The Silent Army) focuses on the journey of 11-year-old Abu, who is kidnapped and forced to join the war.
Romania's Schimb Valutar (Exchange) is about the misfortunes of Emil who sells everything he and his family owns to finance their migration to Australia, only to lose all after being conned. Slovakian film Tango s komármi (Mosquitoes' Tango) chronicles the journey of Karol as he makes his way back to Bratislava for a brief visit. He is accompanied by second rate actor Rudo, who was hired by his wealthy fiancée in order to keep an eye on him.
Czech Republic's Bobule (Grapes) is about the adventures of two young men—one is trying to master winemaking after inheriting his grandfather's vineyard, while the other is a petty crook and ladies' man; while Mammut (Mammoth) from Sweden is about how the quiet life of a couple changes after the husband faces unlikely encounters during his travels.
This year's filmfest boasts two entries from Spain: Intacto, which follows the journeys of four characters whose lives eventually become intertwined in a series of fateful events and circumstances; and Mataharis, the story of private detective Inés who is forced to cross the thin line between public and private matters when tasked to uncover company intrigues at a multinational corporation.
ADVERTISEMENT - CONTINUE READING BELOW
In United Kingdom's Never Let Me Go, childhood friends come to terms with their love for one other while preparing themselves for the haunting reality that awaits them. And finally, France's Une execution ordinaire is about a young urologist and healer who gets into a relationship with the dictator Stalin, and is cast under his manipulative spell.
For inquiries, please contact Tel. No. 633-7851 or log on to www.shangrila-plaza.com.