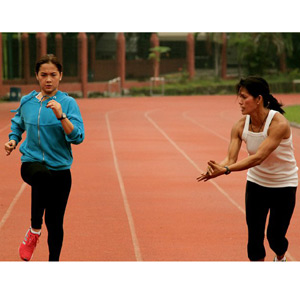 ---
Maja Salvador gives life to the character of a poor but skilled track and field runner in Thelma, a movie directed by Paul Soriano.

Lead actress Maja is seen running barefoot in most of the scenes of Thelma.

In fact, Maja was rushed to the hospital on the fourth shooting day due to severe leg cramps. Her feet were bleeding with blisters. Direk Paul recalls that after two to three hours of rest, Maja felt that she was recovered and insisted that they continue shooting the movie.

Set mostly in Ilocos Norte, the director even made use of a helicopter to achieve the aerial shots seen in the movie.

Thelma tells the story of a probinsyana athlete, who, under difficult circumstances, discovers her talent in the sport of track-and-field running.
It is a journey to self-discovery, faith and resilience more than the glory of winning tough competitions on the race track.
While the plot sounds fairly simple, Direk Paul presents a good film that is substantial in meaning yet one that will appeal to the taste of the general viewing public.
There is nothing forced or tiring in Thelma, and that is one of its many strengths. Its storyline and most about the film comes out in a natural manner making it both realistic and entertaining. Even the ability of the cast to speak in Ilocano appears second-nature to them.
Lead star Maja Salvador gives an impressive performance as a young lady who is reluctant at first to consider her athletic gift but is obliged later on for the sake of her crippled sister, Hannah (Eliza Pineda).
Thelma provides Maja the right vehicle to showcase her acting talent. Maja brandished her depth as an actress without going overboard.
The 22-year-old actress successfully portrays a stubborn yet charming provincial lass, whose childlike (and tomboyish) personality hides her inner will and strength.
ADVERTISEMENT - CONTINUE READING BELOW
Viewers will empathize with Thelma as she wrestles with guilt in blaming herself for the incident that caused her sister to be confined to a wheelchair.
Despite Thelma's growing progress as an athlete, the insecurities, along with self-doubt, seem to escalate.
Maja shines brightest during Thelma's darkest moments, dishing out the emotions in an understated manner that will pierce the hearts of moviegoers.


The supporting characters are just as brilliant, lending their respective characters enough justice.
Tetchie Agbayani and John Arcilla are cast as the parents of Maja's character while Sue Prado is cast as her aunt.


Eliza Pineda, who assumes the role of Thelma's sister Hannah, is also brilliant in the film. The scene where Thelma and Hannah are both overcame by emotion while sharing a snack of the local favorite empanada is heart wrenching.
Thelma is an equal mix of everything, and sandwiched between the drama scenes are witty wisecracks that will catch viewers off guard.
Direk Paul said that he chose the subject of an athlete engaged in track and field because the sport is an individual activity, meaning he can focus more on a single protagonist and the intertwining analogy between the sport and real life.
Thelma triumphs because it turns a seemingly plain subject into something broader and interesting. That is the biggest challenge confronting every storyteller.
Kudos also to Direk Paul for not resorting to clichés commonly incorporated on local films. There are instances when you thought that the plot is descending into predictability only to be proven wrong in the end.


The film's cinematography captures the beauty of Ilocos Norte, with many scenes set in or overlooking the imposing windmills of Bangui.
The love angle between Thelma and Sammy (Jason Abalos) is not given much emphasis. I personally think that this is good since a romantic slant will only disrupt the basic conflict of the plot. A vague depiction of their relationship gives viewers enough space to ponder on the possibilities.
ADVERTISEMENT - CONTINUE READING BELOW
Overall, Direk Paul looks very much in control of his material and his fine treatment of Thelma translates flawlessly on the big screen. It successfully merges independent film aesthetics with commercial viability.
Thelma is a finely done feel-good movie—the kind of feel-good film that has something valuable to impart.
The film delivers a message of hope and resiliency in the face of life's challenges. Its paradox is not hard to spot: that while Thelma is in the sport of running, she stays anchored to her values so as not to run away from life's problems.
Thelma is now showing nationwide and is Graded A by the Cinema Evaluation Board.
This family drama is produced by Time Horizon in cooperation with Abracadabra and Underground Logic. Star Cinema is the distributor of this movie, which is currently being screened in cinemas.