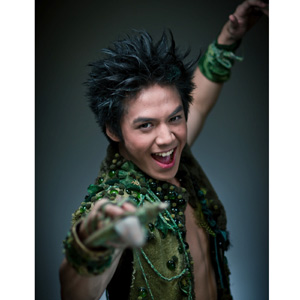 ---
A buff Sam Concepcion returns to his theatrical roots as the star of the sexier and hipper musical version of the classic tale Peter Pan, which will open on September 30, 2011, at the Meralco Theater.
The actor, singer, TV host and youth role model revealed that he was able to achieve his new body by working out in the gym. In fact, he is hardly recognizable in the production's promotional poster and photos because of his toned arms and intense demeanor.
Sam hastened to add, though, that he also needed the exercise to prepare for the physical demands of his role, especially in scenes where he's required to fly using a harness. He won't just be lifted to mid-air, he will also do aerial moves either alone or with a co-star.
This theatrical production is an update of the collaboration between the late Willis Hall (book) and George Stiles and Anthony Drewe (music and lyrics) that is based on the magical story of the eternal child created by book author J.M. Barrie.
ADVERTISEMENT - CONTINUE READING BELOW
Sam and the other main cast members had to undergo a four-day training to learn how to work the flying equipment imported from Las Vegas.
Peter Pan directors Menchu Lauchengco and Jaime del Mundo met with members of the press during a break in the rehearsals of the co-production between Repertory Philippines and Stage Production Specialists rehearsals in Makati City last September 5. The occasion also served as a preview for entertainment media outlets.
Sam is confident that he will be able to master the use of the flying contraptions. "I'm ready to fly!" he exclaimed.
Sam is doubly happy for his new project because theater holds a special place in his heart. He may have established a name in mainstream showbiz but he's vowed not to turn his back to his origins. He had already been part of The Lion, the Witch and the Wardrobe, which he did at age eight, before he won in the singing tilt Little Big Star that set off his career in the recording, TV and film industries.
ADVERTISEMENT - CONTINUE READING BELOW
Sam also believes that his theater background is more of an asset than a liability in his quest for success in all performing fields. "It's true that doing a teleserye takes up a lot of time and it may get in the way if I have rehearsals. But I don't do theater that often. The last one I did before Peter Pan was I think High School Musical, when I was 15 or 16," he told PEP.ph (Philippine Entertainment Portal).
He doesn't think that doing stage productions, particularly those in English, alienate him from showbiz fans. He's just thankful to those people who've been supporting him since he started as a child performer. "My fans are the best!" he declared.
Although he sees the polarities between theater and mainstream showbiz, he doesn't see any reason why he shouldn't aspire to succeed in both fields. "I think [showbiz] is a glamorous and high-paying job. It's for fame. But theater, this is your training. This is where you learn to value your work. Dito, you work your way up. Start ka sa maliit na role. Sa TV, hindi masyadong gano'n. Minsan, if you have a pretty face, star ka na," he observed.
ADVERTISEMENT - CONTINUE READING BELOW
"That's why I value my work. It's not about the roles you play. It's not about how big your role is. It's how you value your work. It's about how you make your role, whether big or small, interesting, and make it a learning experience. I carry on that [attitude], that no matter what job I'm given, I do my best.
"I love theater because it keeps me grounded. Everyone works together to tell a story. Yeah, the show is the star. It won't work if one does a weaker job than the others. Sa movies, iba din. I'm not disregarding the opportunities that have been given to me there. There's so much to learn on TV and in the movies. Marami din akong nagpag-aaralan do'n, with the people I work with, like my directors.
"I can't compare them kasi magkaiba talaga. And I'm in the process of growing and learning more. I'm just glad that [being in both fields] works both ways. My experience in theater gives me a lot of credit when I work on TV or in the movies because they know the work and discipline in theater. For theater naman I'm able to bring it to a bigger audience because of the name that I have established on TV. Pareho kong natutulungan at pareho akong natutulungan."
ADVERTISEMENT - CONTINUE READING BELOW
The actor, who will turn 19 this October, feels fortunate to shine in diverse endeavors. This year alone, Sam got to record albums, open Miley Cyrus's concert, appear regularly on TV (Good Vibes and ASAP Rocks), do a movie (Way Back Home) and now Peter Pan. His next stop might actually be the teleserye realm.
"Yeah, everybody wants to be on primetime TV but I'll get there in a different way—my way," he pointed out.
Peter Pan runs all weekends from September 30 to October 30, 2011 at the Meralco Theater. For tickets and inquiries, call Tel. No. 571-6926 and 571-4941 or log on to www.repertory.ph.