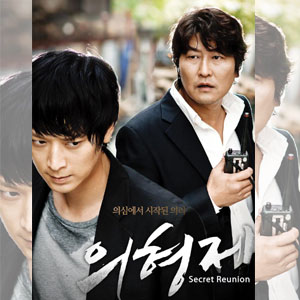 ---
While Korean dramas are still much supported by Filipino viewers, their film counterparts have yet to draw more fans in the country.
The 2011 Korean Film Festival will run from September 20-25 at the SM Mall Of Asia and SM North EDSA and from September 28 to October 2 in SM City Cebu.
It aims to draw more Filipino viewers by showcasing films depicting the "7 colors of love," which is the theme of this year's festival.
At the opening night held on September 19 at the SM Mall Of Asia Cinema 6, film enthusiasts got a taste of the festival's offerings with the premiere screening of the 2010 film Secret Reunion.
It was the second highest grossing film in South Korea in 2010, putting it on record as one of the highest grossing Korean film of all time.
So what was it about this film that had about 5 million Koreans raving about it?
Judging from the film's title alone, one would think that it would be something like a love story between old flames rekindling their passion in a surreptitious affair.
But seeing the poster with two men on it instantly scraps that idea. The movie is in fact about two strangers whose lives are intertwined while at a career limbo. They find genuine compassion and kindness at the most unlikely of circumstances.
Though it is primarily an action film—the type that gets bloody and grimy, Secret Reunion manages to be touching, maybe even drive you to tears, at certain key points.
After failing to accomplish his last case as a South Korea National Intelligence Service agent, Lee Han-gyu (played by award-winning actor Song Kang-ho) resorts to operating a small private investigation company in order to get by.
He takes Song Ji-won (played by Kang Dong-won), a former North Korean spy, as his apprentice. Han-gyu did this so he can monitor Ji-won's dubious actions.
ADVERTISEMENT - CONTINUE READING BELOW
Ji-won was disowned by his country after refusing to kill an innocent mother and child during one of their operations. However, Han-gyu's former colleagues believe that Ji-won is the link that will lead them to the ultimate villain, a man called Shadow.
The two worked together as a team, but secretly, they served against each other hoping to regain the trust of their former comrades.
This ensues a lot of comedic moments from versatile actor Song Kang-ho who becomes so paranoid he ends up in dim-witted situations including cuffing himself to a post.
Kang Dong-won, on the other hand, complemented his co-stars amusing appeal with his reserved actions, making the funny scenes more laughable.
As days went by in the story, Han-gyu and Ji-won discover details about their families; how they ended up being two lonely guys living in one apartment and their secret hopes of reuniting with their loved ones.
Soon, they develop a touching brotherly bond and begin to show sincere compassion for each other.
But a huge storm arrives to test them as the secrets they had kept from each other begin to confront them.
Han-gyu, while working with his fellow agents to apprehend Shadow, ends up fighting to save Ji-won's life.
The rest of the movie turns into a whirlwind of suspense and drama as they run through the streets of Seoul, guns and weapons in tow, keeping the audience on their toes for the next big twist and whether or not it will end on a happy note or otherwise.
Secret Reunion is a must-see movie that is exciting, amusing and heart-warming all at the same time; a good choice to open the love-themed Korean film festival.


(CLICK HERE to read the synopses of the films to be screened during the 2011 Korean Film Festival)
ADVERTISEMENT - CONTINUE READING BELOW