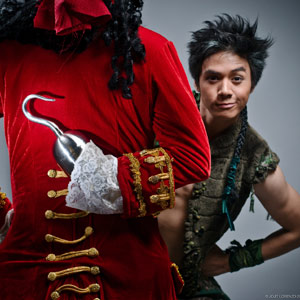 ---
Theater stalwarts Menchu Lauchengco-Yulo and Jaime del Mundo, who share directorial duties in the upcoming musical staging of Peter Pan, lament the stiff competition that local companies face against foreign touring productions.
"When foreign productions come, majority of the people support them," said Lauchengco-Yulo, also the associate artistic director of Repertory Philippines. "Sponsorships go to them and the people behind them. It really kills the local industry. So, we really struggle. It's very difficult. It's hard to get sponsorships. It's hard to get audiences because they're saving their money for foreign productions. It's something that we have a hard time dealing with."
"It's an uphill battle," del Mundo added. "Also, the mindset of a lot of the audiences is that if it's foreign, it's gotta be good. That's a mindset that one has to clarify. But I don't think it has to be a fight because foreign productions come and go, and we're here. There are groups that support what we do. Hopefully, that number increases."
ADVERTISEMENT - CONTINUE READING BELOW
To make that happen, Lauchengco-Yulo and del Mundo told PEP.ph during a break in the Peter Pan rehearsals in Makati City that they always try to maintain the quality of Rep's shows. The country's premiere producer of English-language stage plays is fondly called by its nickname, Rep, and it's been around for the last 44 years.
"So, people will see that we're just as good, if not better than the foreign productions," she pointed out.
Their latest offering, Peter Pan, will open on September 30 at the Meralco Theater and will run all weekends until October 30.
One proof of Rep's world-class worthiness is the triumph of its alumnae Lea Salonga and Monique Wilson in West End (and also in Broadway, for the former) as lead stars of Miss Saigon in the mid-1980s.
Now, Rep continues its pursuit of artistic excellence as it opens up to collaborations with artists like Anton Juan, who directed The Joy Luck Club last February, and with Stages Production Specialists for Peter Pan, which Lauchengco-Yulo called a "massive show" because of tremendous set requirements such as a flying machine. She said the equipment will be brought in from Las Vegas and flying instructors will also be flown in to train the actors for four days.
ADVERTISEMENT - CONTINUE READING BELOW
"Peter Pan also paved the way for Rep to have actor-singer Sam Concepcion, a STAGES talent, in the lead role. "With Sam, we're bringing in audiences who probably haven't seen a Rep production," she noted. "And he's been a pleasure to work with. He's always on time."
Rep is likewise open to working with Sam's colleagues in the fields of television, film and music. "I'm very open to the idea," said Lauchengco-Yulo. "The problem is their schedule. Because they are so busy with their television shows that they don't have time to do rehearsals. Sam had been informed way ahead, so he's blocked off a lot of his TV work.
"I will not risk a production to rehearse for one week. For me, it's not worth it because we work so hard. It would be so unfair to put in a movie-TV actor purely on name but the actor will not live up to the role. But as long as they're bagay to the role and they're willing to do rehearsals, I'm all for it."
ADVERTISEMENT - CONTINUE READING BELOW
Sam fits the bill perfectly. Aside from his thespic gift, he also has the discipline and dependability. He even went to the gym for some muscular definition and stamina that the role requires. Peter Pan, the boy who didn't want to grow up in the book by J.M. Barrie, is sexier in this update of the 1996 musical by the late Willis Hall (book) and George Stiles and Anthony Drewe (music and lyrics), revealed Lauchengco-Yulo.
"This is the new version, which is very different from the last time Rep staged it, back in the '90s with Rachel Alejandro in the lead," she explained. "It debuted in late 2007 in the U.K. and it hasn't hit Broadway yet. The story is the same but the look and the music are different. For instance, Peter Pan is played by a boy for the first time on stage."
Joining Sam in the cast are Michael Williams (as the villainous Captain Hook), Tippy Dos Santos and Cara Barredo (alternating as Wendy Darling), Joy Virata (the older Wendy and the narrator), Nacho Tambunting (John Darling), Juan Miguel Santos (Michael Darling), Jaime del Mundo (Mr. George Darling), Pinky Marquez (Mrs. Mary Darling), Robie Zialcita (Smee) and Kyla Rivera (Tiger Lily).
ADVERTISEMENT - CONTINUE READING BELOW
Peter's friends and followers in Neverland, the Lost Boys, are played by Kevin Concepcion (Sam's brother who's also his alternate), George Schulze, Jay Pangilinan, Bym Buhain, Justin Valiente, Nel Gomez and Chris Habibib.
Captain Hook's Pirates Gang is composed of James Stacey, Hans Eckstein, Edu Briones, Meynard Penalosa, Raymund Domingo, Kuya Manzano and Chino Veguillas.
The fairy Tinkerbell will be represented by a tiny flashing light.
The production's rehearsal also served as a sneek peak for representatives from various media outlets. The cast performed four numbers: a lively turn by The Lost Boys, a solo by Wendy (Tippy Dos Santos, also an aspiring TV actress whose credits include Idol and Shoutout), a duet by Peter Pan and Wendy (Cara Barredo, a Rep regular since age six who won a citation for her outstanding performance as Beth in last year's Little Women), and a hilarious romp by Captain Hook and his pirates.
ADVERTISEMENT - CONTINUE READING BELOW
Lauchengco-Yulo and del Mundo presented the scale model of the stage designed by Gino Gonzales based on the requirements of the story and its limitations. For instance, the window panels that open and close in the nursery where Wendy likes to tell stories to her younger brother are inspired by Peter Pan's thing with closed windows. Also, a large area above and at the back of stage should be kept open to enable the actors to fly freely.
Peter Pan runs all weekends from September 30 to October 30, 2011 at the Meralco Theater. For tickets and inquiries, call Tel. No. 571-6926 and 571-4941.