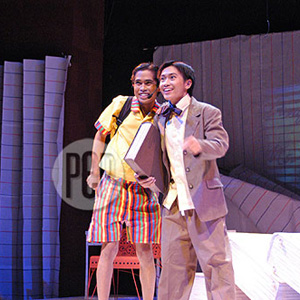 ---
A few days before the opening night of Batang Rizal, the Philippine Educational Theater Association (PETA) invited several representatives to watch a preview of the play and to give their feedback.
PEP (Philippine Entertainment Portal) was invited to view the July 16 performance of the cast at the Tanghalang PETA-Phinma in Quezon City. Teachers, students, and possible sponsors were invited to assess the opening salvo of the theater group for its 40th season.
Batang Rizal takes place during the Buwan ng Wika at Kultura, which in reality is also celebrated during the month of August. A student named Pepito (Christian Segarra) from Rizal Elementary School is faced with a problem—he must find a way to replace the monument of national hero Dr. Jose Rizal, which broke accidentally.
Through the help of the magical book, Pepito gets transported back in time to meet the young Pepe [Rizal] himself, played by Mark Anthony Norella, in his hometown Calamba, Laguna. The two boys meet several important people and surpass challenges in ways that only kids can do.
ADVERTISEMENT - CONTINUE READING BELOW
According to PETA's artistic director Maribel Legarda, it was a challenge to write the script since Rizal is such a national icon, making it hard to portray the hero during his younger years.
In fact, this was one of the comments during the critics' night. The play, said the viewers, would be more effective if Pepe could be made more playful and lighthearted. Another oversight was having too many elements in some portions of the play, particularly the scene where Pepito performs a puppet show while a shadow play is ongoing in the middle of the stage. The shadow play is a great visual technique in retelling Rizal's parable, "Ang Buhay ni Pagong at ni Matsing," but attention is stolen by the colorful puppetry going on.
Even the accents of the characters were pointed out as being too city-centric. Considering that the cast members were playing people who lived in Laguna during the Spanish era, there was no distinctive difference in the way they spoke their lines.
ADVERTISEMENT - CONTINUE READING BELOW
Still, there is no denying the entertainment and educational value of Batang Rizal. It's a fresh look at our national hero, making him more accessible to the youth of today. Technical flaws aside, the critics that night were amazed by the historical lessons and timeless values imparted by Batang Rizal. PETA offers a vibrant, colorful play that promises to be a seamless show come opening night.
Batang Rizal will open at the Tanghalang PETA-Phinma of the PETA Theater Center on July 20 and will run until August 26, with performances at 10 am and 3 pm.
For inquiries and ticket reservations, call the PETA Marketing and Public Relations Office at 7256244, 4100821 to 22, 0918-9354166, 0917-8154567 or email mpr@petatheater.com or petampro@yahoo.com. Season subscriptions are also available for only PhP1,000. Performance schedules are subject to change without prior notice.
Performance dates: July 20-22, 26-29, August 2-5, 9-12, 16-19, 23-26
10 a.m. and 3 p.m.
ADVERTISEMENT - CONTINUE READING BELOW
Venue: PETA-Phinma Theater, No. 5 Sunny Side Drive, New Manila, Quezon City