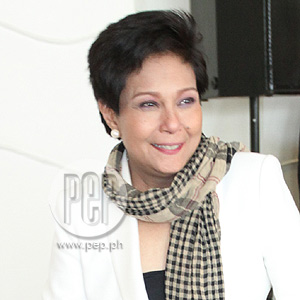 ---
The 2011 Cinemanila International Film Festival, in cooperation with the City of Taguig, will pay tribute to one of the Philippines' most accomplished actresses, Nora Aunor (born Nora Cabaltera Villamayor on May 21, 1955 in Iriga City, Camarines Sur), by bestowing her with the Lifetime Achievement Award on 11-11-11, during the festival's Opening Night. Aunor is popularly regarded as the Superstar for her stellar achievements and enormous contribution--as actor, singer, TV host, and producer--to the entertainment industry.
As part of the homage to the multi-awarded Aunor, a short video tribute will be shown during the presentation of the award. And throughout the festival, Cinemanila will screen (with English subtitles) classic films showcasing Aunor's legendary acting talent, including Tatlong Taong Walang Diyos (1976), Minsa'y Isang Gamu-Gamo (1976), Bona (1980), and Himala (1982), winner in 2008 of the CNN APSA (Asia Pacific Screen Awards) Viewers Choice Award for Best Asia-Pacific Film of all Time.
Indeed, Nora Aunor is a world-class artist as shown by the list of international organizations that have given her a Best Actress award, including the Cairo Film Festival (The Flor Contemplacion Story, 1995), East Asia Film and Television Festival (Bakit May Kahapon Pa?, 1997), Brussels Festival of Independent Films (Naglalayag, 2004). She was also nominated in the Berlin Film Festival for Himala and awarded the Certificate of Honor in the Cannes Film Festival for Bona.
ITALIAN HITCHCOCK TO BE HONORED. Aside from Nora Aunor, Italian film director, producer and screenwriter Dario Argento will also be honored with the Lifetime Achievement Award.
Argento, 71, is best known for his work in the horror genre, particularly in the subgenre known as giallo (Italian for 'yellow', or more precisely, 'thriller'), and for his influence on modern horror and slasher movies. Argento is also known as the Italian Hitchcock.
His more popular works include the international hit The Bird with the Crystal Plumage (1970), the surreal horror film Suspiria (1977), and the violent mystery-thriller Deep Red (1975), considered by many critics as the best giallo ever made, and which inspired many film directors, such as John Carpenter, to work in the genre. Suspiria will be screened during the festival among Argento's other films.
ADVERTISEMENT - CONTINUE READING BELOW
Other notable credits include the spaghetti western classic, Sergio Leone's Once Upon a Time in the West (1968) (story), and the cult zombie film, George Romero's Dawn of Dead (1978) (producer). More recent works include Trauma (1993), The Stendhal Syndrome (1996), and The Phantom of the Opera (1998) (all of which featured his daughter Asia, an accomplished actor and filmmaker in her own right).

13TH CINEMANILA. With the Cinemanila Lifetime Achievement Award, Nora Aunor and Dario Argento will join an exceptional group of individuals who received the same award, such as U.S. filmmakers Quentin Tarantino (2007) and Paul Schrader (2009), Indonesian actress and filmmaker Christine Hakim (2003), film programmers Aruna Vasudev and Philip Cheah (2006), Pusan International Film Festival founding director Kim Dong Ho (2005), and fellow Filipino artists Vilma Santos (2003), Eddie Romero (2004) & Dolphy (2010). Aside from these personalities, other special guests who graced Cinemanila in the past include Jafar Panahi (The Circle, 2000) and Fernando Meirelles (City of God, 2002).
The 13th edition of Cinemanila will be held from November 11 to 17, 2011 at the Market! Market! Cinemas in Bonifacio Global City in Taguig City. Around 50 international and local films will be screened in a span of 7 days, from the current toasts of the local indie scene to the award-winners and favorites of prestigious festivals such as Cannes, Berlin, Rotterdam, Sundance, and Pusan. The festival will also feature workshops, seminars, and master classes. For more info, or jpegs for a release, please contact cinemanila.press@gmail.com and cinemanila@gmail.com or go to www.cinemanila.org.ph.