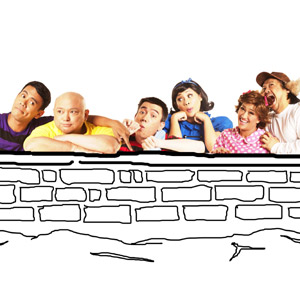 ---
There are many ways by which man defines his or her pursuit of happiness. Spending time with family and loved ones is always a favorite. Hanging out with friends is another. But for Charlie Brown, his dog Snoopy, his sister Sally, and their friends Lucy, Linus and Schroeder, happiness may be as simple as "finding a pencil," "pizza with sausage," or "telling the time."
In February 2012, 9 Works Theatrical will take theatergoers back to those good ol' days when baseball games, book reports, kite-flying and glee club rehearsals were all the craze. It will present the timeless characters from Charles M. Schulz' popular comic strip "PEANUTS" via the Tony award-winning musical, You're A Good Man Charlie Brown.

Charlie Brown can't seem to win the heart of the elusive Little Red-Haired Girl, nor his friend Lucy, a bossy, crabby little tyrant who dispenses "Little Known Facts" and is convinced that she could be Queen someday. Lucy's all-time crush is the sensitive piano-playing Schroeder who is an admirer of Beethoven.
Meanwhile, Snoopy, Charlie Brown's wise-cracking yet lovable dog, and Linus, Charlie Brown's blanket-toting best friend, daydream all day as their friends battle with kites. Sally, Charlie Brown's lil' sis, has to deal with getting a "D" in last week's homework.
All of them will come together at the end of the day to realize what makes them truly happy.
Told through a series of recognizable vignettes inspired by Schulz's comic strips, the musical looks into an average day in the life of Charlie Brown and draws from the richness and universality of their everyday situations--making it the perfect family musical that will surely resonate with audiences young and old.
Playing the role of Charlie Brown is 9 Works Theatrical's artistic director Robbie Guevara who was recently seen onstage as Uncle Max in The Sound of Music.
ADVERTISEMENT - CONTINUE READING BELOW
One of the country's most versatile performing artists, Carla Guevara-Laforteza will be playing the role of the bossy and crabby Lucy. Carla was recently seen as Maureen Johnson in 9 Works Theatrical's production of RENT, as well as having played Sister Berthe in The Sound of Music.
Playing the role of Charlie Brown's lovable dog Snoopy will be Lorenz Martinez whose last appearance onstage was as Benjamin Coffin III in 9 Works Theatrical's RENT, as well as Herr Zeller in The Sound of Music.
Returning to the stage after a very long acting sabbatical are veteran actors Tonipet Gaba, Sweet Plantado, and 9 Works Theatrical's associate artistic director Mio Infante--who join Robbie, Carla and Lorenz in bringing to life this timeless classic. For all six of them, it has become somewhat of a "dream project."
Tonipet Gaba's TV hosting credits include Art Angel, Sabadadog, Tara Let's Eat and GMA News TV's Pop Talk. A three-time Star Awards winner for Best Children's show host, Tonipet's stage credits include essaying lead roles in Kiss of the Spiderwoman, Blood Brothers and The Little Mermaid, among others. For this production, he will be playing the sensitive piano-playing Schroeder.
Playing Charlie Brown's younger sister Sally is Sweet Plantado who was the musical director for Vocals for 9 Works Theatrical's Sweet Charity. Sweet is a performing-recording artist who is part of the Philippine vocal group, The CompanY.
And finally, returning to the stage after a long sabbatical as the blanket-totting Linus is Mio Infante, one of the country's top scenographers.
For this production of You're A Good Man Charlie Brown, 9 Works Theatrical has invited veteran actor Michael Williams to helm the show as its esteemed director. He is thrilled to be working with 9 Works Theatrical for the very first time.
ADVERTISEMENT - CONTINUE READING BELOW
The Artistic Team is led by Michael Williams (Director), Toff de Venecia (Assistant Director), Joseph Tolentino (Musical Director - Instrumentation), Sweet Plantado (Musical Director - Vocals), Mio Infante (Scenographer), Martin Esteva (Lighting Designer), Mio Infante and Twinkle Zamora (Costume Designers), Richard Lazaro (Photographer), Larry Palma (Graphic Designer), and Deana Aquino (Choreographer).
The Production Team is led by Santi Santamaria (Executive Producer), Anna Santamaria (Company Manager), Toff de Venecia (Marketing and PR Director), Jonjon Martin (PR Manager), Pamela Imperial (Production Manager), and Jojo Amboy (Stage Manager).
Based on the comic strip Peanuts by Charles M. Schulz, with Book, Music, and Lyrics by Charles Gesner, Additional Dialogue by Michael Mayer, Additional Music and Lyrics by Andrew Lippa, Original Direction by Michael Mayer, and originally produced in New York by Arthur Whitelaw and Gene Persson, You're A Good Man Charlie Brown is an outrageously funny and heartwarming musical fit for the entire family and will keep audiences laughing at the edge of their seats.
You're A Good Man Charlie Brown will be shown from February 10 to March 4, 2012 at the Carlos P. Romulo Auditorium, RCBC Plaza, Makati. Friday shows at 8pm, Saturday at 3:30pm and 8pm, and Sunday at 3:30pm.
A limited number of performances are available for fundraising and block-buying. Please call Tel. No. 557-5860, 586-7105 or 0917-5545560 or email info@9workstheatrical.com for inquiries.
You're A Good Man Charlie Brown is produced by arrangement with, and the music and dialogue material furnished by TAMS-WITMARK MUSIC LIBRARY, INC., 560 Lexington Avenue, New York, NY 10022.