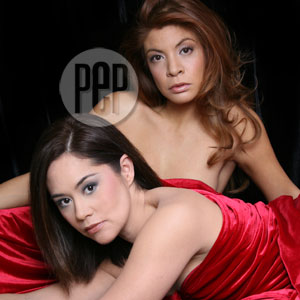 ---
Women and men alike will again be treated to a rip-roaring comedy from Eve Ensler, author of the international sensation The Vagina Monologues.
After a successful run of The Good Body in Manila for the past few weeks, The New Voice Company will be staging Ensler's compilation of monologues in other Asian countries in 2007.
"We're taking this [The Good Body] to Hong Kong and Singapore before Holy Week [next year]," confides Pinky Amador, one of the cast members of this eye-opening play about women's perception of their bodies. In The Good Body, Ensler explores experiences of the fair sex with monologues representing women from Bombay to Beverly Hills.
Pinky collaborated with Monique Wilson and Juno Henares to bring life to The Good Body, which was restaged last December 8 at the Music Museum. Right after their performance, PEP (Philippine Entertainment Portal) was able to interview Pinky about her portrayal as the award-winning playwright Ensler.
She says, "I can identify with [my character] while waiting in the gym, the bingeing, [eating] food for comfort...so many issues...always needing appreciation from your partner. Women always need to be appreciated. Kahit appreciated naman sila, kailangan nasasabi, kailangan naririnig nila. Ganun tayo as women."
Pinky continues: "In this play, people go through all sorts of drastic measures. Sometimes, wala rin namang nangyayari. Sa breast reduction, wala ring nangyari. [Yung babae na nag-undergo ng] vaginaplasty, wala pa ring interes sa needs niya [yung partner niya]."
Her co-stars, Monique and Juno, also feel empathy for the characters they play in The Good Body. "I can identify with most of my characters because all of the issues in The Good Body are universal and all of us go through a phase of self-dislike, insecurity with our bodies because of pressure from society, our parents, and the media," explains Monique.
ADVERTISEMENT - CONTINUE READING BELOW
When asked to compare Filipino women with other nationalities portrayed in The Good Body, Monique notes, "In a way, we are quite conscious about who we are and what we do to ourselves. At the same time, we are very, very influenced by the West. We are extremely influenced by the West...maybe that's not a good sign."
When asked if they will stage a Tagalog version, Monique replies, "Next year."
Aside from being a part of The Good Body, Pinky has been busy promoting her recently concluded solo concert at Teatrino entitled You Love Me! You Really Love Me!
"I just finished my concert last Thursday [November 30]. In fact, Juno and Monique were my surprise guests," shares Pinky.