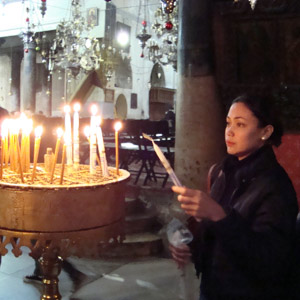 ---
"It was a very humbling and life changing experience to be able to step on the Holy Land. Iba talaga. For us Catholics it's really important because part 'yan ng religion natin and our faith. We know that's where it all started," said Jodi Sta. Maria about her recent trip to Israel for her upcoming indie film, Migrante.
Directed by Joel Lamangan, Migrante is about a domestic helper who overcomes abuse through friends and an NGO in the Middle East. The film's various locations range from the Holy Land, Manila and even to the marshes of Candaba in Pampanga.
Acting opposite Jodi is Allen Dizon who is cast as her husband. Other cast members include Ryza Cenon, Luis Alandy, Bangs Garcia, Barbara Miguel, Tony Mabesa, Raquel Villavicencio, Jaime Pebanco, Chynna Ortaleza, Rich Asuncion, Alex Castro, May-I Fabros, Krisanto Ilagan, Joshua Bramaje and Denzel Guiao.
Migrante is also the name of an actual NGO, Migrante International, whose goal is to aid OFWs in need. They are based in different parts of the world. Their international network also provides a great way for our kababayans abroad to view the film.
The schedule of shooting was very tight according to Jodi. "We went from Manila to Hong Kong and Hong Kong to Israel. We shot some scenes in the airplane. And when we landed we shot some scenes right away in the airport. The following day we started grinding na talaga. Tuloy tuloy na shoot."
Although fast paced, the cast and crew were also able to appreciate the religious significance of their location. "It was fun because we were filming at the same time we were touring na rin. We were able to go to Mount of Olives, Garden of Gethsemane, Jerusalem, Damascus. We even went to Galilee and yung Via Dolorosa. Basically halos lahat nung area. Israel is a small country kaya di malabo na ma ikot mo siya in a short period of time."
ADVERTISEMENT - CONTINUE READING BELOW
Via Dolorosa (according to Wikipedia) is translated from Latin as "Way of Grief" or "Way of Suffering." It is the actual street within the Old city of Jerusalem where Jesus walked carrying his cross on the way to crucifixion.
Jodi had her own 'cross' when they shot a very cold exterior scene. Her character was supposed to have escaped from her employer in the middle of winter without the proper clothes or a roof over her head, "It was really cold and me pa naman medyo mahina pagdating sa lamig. Lamigin ako, when we got there I think the temperature was almost freezing. There are nights when our breaths have frost. It was hard for me because meron akong scenes na tumakas ako sa employer ko. Ang suot ko lang yung simpleng cardigan na dapat naka blouse ka and ear muffs na pang winter. And I had to sleep pa sa bangko na gawa sa metal."
The difficulties according to her helped the performance. "It was really really cold. But then iniisip ko na rin na maganda na rin dahil makikita mo yung hirap na talaga pinagdaanan nung character na si Frida. So naka tulong yung environmental factors na malamig so I can get into character, sa hirap ng pinagdaanan niya."
Co-star and theater icon Tony Mabesa praised Jodi for her professionalism. "This is only the second time I've worked with her. We did that movie Birhen ng Manaoag. She's very easy to work with and very sensitive and a very intelligent actor."
Tony Mabesa will also be directing Migrante director Joel Lamangan as an actor in a play called Forsaken House, running from Feb. 15-March 4, 2012. The play was written by National Artist for theater Wilfrido Maria Guerrero and was Mabesa's mentor and friend. The venue will be in the theater named after the National artist at the UP Palma Hall in Diliman. Other cast members include: Irma Adlawan, Tess Dumpit, Leo Rialp, Ces Quesada, Espie Tinio-Garcellano and Menggie Cobarrubias. Lamangan earned a Best Actor at the Aliw Awards last year in the Floy Quintos play Fake.
ADVERTISEMENT - CONTINUE READING BELOW