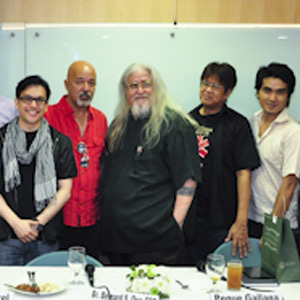 ---
Because of the successful run of A Fire In The Soul: A Cantata held few months ago, De La Salle University decided to restage the musical about the 1945 massacre of 24 Filipinos and 16 La Salle Brothers. A Fire in the Soul will be staged this Sunday, February 26, at 3 p.m., and on Monday, February 27, at 8p.m. The play will be mounted at the Teresa Yuchengco Auditorium, De La Salle University campus.
This new staging features Michael De Mesa, a Lasallian, as one of the Brothers killed during the massacre.
"I owe a lot to the Lasallian community for my education," declares the U.S.-based actor Michael, who is back in the Philippines for the taping for TV5's Valiente. "I am thankful to director Peque Gallaga that he considered and accepted me to be part of this production."
He started rehearsing two weeks ago for the show, and co-actor Franco Laurel says that he is impressed with Michael's professionalism, and spot-on characterization of the role.
Franco adds, "Michael's interpretation of his role gives the whole production a new flavor. It is such an honor to work with a good friend, and gifted artist like him."
Aside from having Michael as the newest addition to the cast, this new staging will mark its debut on the new venue. The original staging was held at the DLSU Chapel of Most Blessed Sacrament.
"The massacre really happened at the site of the Chapel so that gives the show an interesting feel, but since the venue is not intended for musicals, the acoustics of the venue has to be improved," says director and La Salle alumnus Peque Gallaga. "For the new staging, since we're at a more performance-friendly venue, you can expect better sound from our amazing performers. Whatever we now lack in "site," we compensate with "sound."
ADVERTISEMENT - CONTINUE READING BELOW
This Cantata, created by Gabby Fernandez with libretto by Vince Groyon and music by Von De Guzman, is part of the yearlong celebration of the centennial celebration of De la Salle University.
Al Gatmaitan, Jonel Mojica, Miguel Castro, Floyd Tena, Jaime Fabregas, Ricky Gallaga, Conchita Castillo, Dado Jose, Tanya Lopez, and Louie Zabaljauregui complete the cast.
For more information, please call the DLSU Centennial Office at 524-4611 local 290 or email perla.garcia@dlsu.edu.ph.