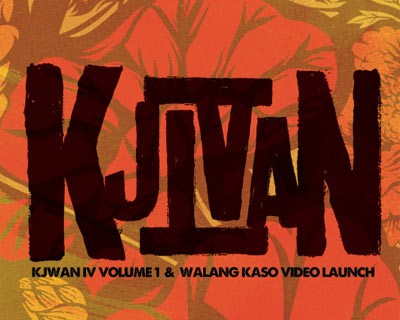 ---
This month, Kjwan will break new ground with the their latest studio release, Kjwan IV Volume One. The album launch will be held this Saturday, March 31, 2012 at Saguijo Bar, Guijo St., Makati City from 9pm to 2am.
The multi-awarded rock band will unveil the album in three volumes in 2012, giving their fans fresh materials throughout the year.
Kjwan burst onto the scene in 2003 with their self-titled debut under Sony Music. Anthemic singles "Daliri" and "Boomerang" propelled the band to the forefront of the rock scene, immediately garnering critical acclaim and popular support. The band went on to bag nominations for Best Video and Best New Artist at the 2005 NU 107 Rock Awards and the MTV Philippines Music Awards.
Their 2007 sophomore effort, 2 Step Marv, released under Barnyard Records and distributed by Sony Music, took the band's sound to new directions—incorporating elements from jazz, R&B and drum n' bass. It was a gamble that worked, drawing in more fans and culminating in big wins at the MYX TV Awards (for Best Video and Favorite Indie Artist) and six nominations at the NU107 Awards. That same year, Kjwan triumphed over 30 bands from Southeast Asia to win the Grand Prize at the first-ever IKON ASEAN Competition in Putrajaya,Malaysia.
After a regional tour of Hong Kong (HK-Live), Singapore (Baybeats), and Macau (Hush Music Festival), Kjwan returned home to a hero's welcome, receiving a Philippine Senate Citation, an Ani ng Dangal Award from the National Commission for Culture and the Arts, and an AWIT Award.
ADVERTISEMENT - CONTINUE READING BELOW
In 2009, Kjwan released their third studio release, 13 Seconds to Love. The album was embedded in the Nokia 5800 Xpress Music Phone, making Kjwan the first act in thePhilippines to fully embrace the move to mobile music. Singles "Lifeline," "Pause," and "Meron Ba" also translated well on the digital platform.
This 2012, the band offers Kjwan IV, their first self-released album and their fourth overall. Produced by longtime collaborator Pat Jalbuena, Kjwan IV reveals a band at the top of their game and a sound that is—as always—intense and innovative, hard-hitting and soul-soaring.



Kjwan is currently composed of Marc Abaya (vocals/guitar), Kelley Mangahas (bass), Boogie Romero (guitar/vocals), and Enrique de Dios (keyboards/percussion).