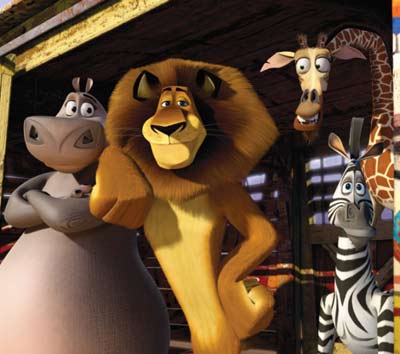 ---
Through back-to-back presentations in Los Angeles and New York, DreamWorks Animation's has just given journalists an exciting peak at its lineup for 2012. Chief Creative Officer Bill Damaschke hosted the events and joked about 2011's success: "As my mother pointed out, 'Billy, 100% of the movies you made got Oscar nominations last year…'"
June 8, 2012 will see the release of Madagascar 3: Europe's Most Wanted, the third installment of a franchise that has the beloved characters we all know on a fun whirlwind adventure racing through the European continent in search of a way back home. "Well, the zoosters and penguins are still trying to get home," continued Damaschke, "and the filmmaking team behind these characters and stories are still bringing the same level of inventiveness and creativity to the process, and some exciting new twists!" The filmmaking team--all present at both presentations--include producers Mireille Soria and Mark Swift and directors Eric Darnell, Tom McGrath and Conrad Vernon, who walked the attendees through 25 entertaining minutes of footage as well as the new trailer in 3D.
"We have all our returning cast picks (Jada Pinkett Smith, Ben Stiller, Chris Rock and David Schwimmer) and great new characters, explained McGrath before introducing Pinkett Smith with the voice of the penguin Skipper. "This is the first time as I've worked with 3 directors at the same time," said the actress--who returns to the role of the hippo Gloria--at the event inLos Angeles, "and I have to say that it was very easy, and so much fun! I hope you enjoy watching it as much as I enjoyed participating in making it."
ADVERTISEMENT - CONTINUE READING BELOW
"We are very excited to be in our third Madagascar movie," Ben Stiller confirmed in New York, "and it's different to the other two!" To which Chris Rock further joked, "Yes, when we started we had no children and perfect eyesight; but the Knicks were still losing!"
"We pick up this latest installment with our zoo animals waiting in Africa for the penguins, who have gone to Monte Carlo, to come back and get them," explained Conrad Vernon. "Then they decide to hit the road and make it back toNew York on their own, but getting across Europe undetected is not as easy as it sounds... So, they hop onto a circus train and pose as performers. They go through different and exotic locations on this adventure that include Rome, the Swiss Alps, London and Monte Carlo." And Eric Darnell added, "This isn't the most successful circus tour inEurope. In fact, they have a lot of work to do if they are ever going to get the show good enough to take them home… So, they reinvent the circus and update it."
The footage of the arrival of Alex the lion, Marty the zebra, Gloria the hippo and Melman the giraffe in Monte Carlo--and their hilarious encounter with the penguins, followed by their dramatic escape from the clutches of their relentless pursuer Captain Chantel DuBois (voiced by Frances McDormand)--was received by the audience with laughter and applause, as it was a spectacular work-in-progress sequence of their reinvention of the circus show. In the words of producer Mireille Soria, "When we think of Madagascar we think of fun, travel and friendship. So, it was all about how do we get them home and what more of the world can we see." And Mark Swift confessed, "I personally feel that, out of all three, this one is the funniest!"
ADVERTISEMENT - CONTINUE READING BELOW


RISE OF THE GUARDIANS. "Two years ago we released a film called How to Train Your Dragon," recalled Bill Damaschke. "At the time this was a really unique property for us in terms of its tone, its storytelling and its look. Today we are going to present Rise of the Guardians, which we believe pushes again the boundaries of animation.
"It is based on a book series called The Guardians, by William Joyce, that essentially reinvents icons from our childhood: Santa Clause, the Easter Bunny, the Tooth Fairy, the Sandman, Jack Frost and the Boogieman. His daughter asked him one day if these iconic characters knew each other, and that question inspired him to write these books. So, when we take the inspiration of William Joyce's mythologies, put it in the amazing and capable hands of someone who loves comics and writes wonderful and funny characters like David Lindsay-Abaire and a director who is versed in both animation and live action you get Rise of the Guardians."
Santa Clause, who we call North, is a force of nature brought to life by Alec Baldwin," says director Peter Ramsey. "And The Sundance Kid to this Butch Cassidy that is our Santa is the Easter Bunny, a ranger and a warrior played by Hugh Jackman. Tooth is the Tooth Fairy that keeps the precious memories of your childhood safe so you can draw inspiration from them later in your life, and Isla Fischer brings a sharp comedic instinct and her beautiful voice to that role.Sandy, the Sandman, doesn't really talk and is probably the wisest of our team. Pitch, the Boogieman, is the bad guy that Jude Law made not only threatening, but also smooth and charismatic. And then there is a wild card, the rebel without a cause of our movie: Jack Frost, voiced by Chris Pine."
ADVERTISEMENT - CONTINUE READING BELOW
"Imagination is powerful, and as an actor there is something special about going back to that joyful un-cynical time of our childhood where anything is possible," said Pine inLos Angeles. "And that fight of this movie and of these guardians is what really resonated with me. Also important to the story is the concept of the outsider--that feeling of searching for friendship and to be part of a community--which is something we all want."
Peter Ramsey rolled out a couple of powerful and fun scenes from Rise of the Guardians. In one of them we see the guardians trying to add Jack Frost to their team after having whisked him up to the North Pole. Alec Baldwin, who in New York admitted that only Jeffrey Katzenberg could get him to lose weight to play Santa Clause, didn't hide his admiration for the movie: "The other day I saw some chunks of the film in different levels of development, and I completely loved what I saw! Ours is the best family film of the year; unlike others, that have an excess of talking animals…" he chuckled. This epic adventure opens on November 21, 2012.