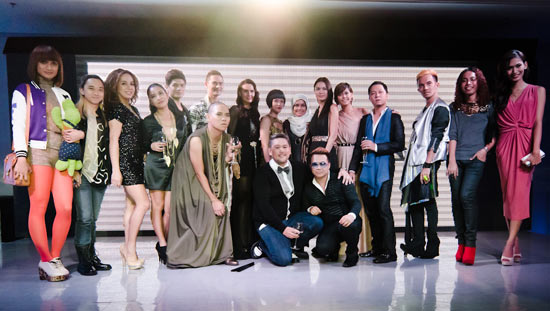 ---
Project Runway Philippines returns to television with a new host and 15 contenders who will battle it out to emerge as the next big Filipino designer.


Serving as host-judge of Project Runway Philippines Season 3 is fashion icon and industry legend Tweetie de Leon Gonzales. Her years of experience and eye for fashion will definitely elevate the standards of aesthetic in the competition.


Joining Tweetie in guiding the young designers in the creative process is well-renowned designer Jojie Lloren. Also famously known as the contestant's 'tor-mentor,' Jojie's role brings out the drama as well as humor in the weekly reality program as he assesses and gives advice to contestants regarding their designs.


The two other judges in the competition are Apples Aberin and Rajo Laurel. Also industry experts, the two judges balance themselves well in terms of experience as Apples represent the modeling industry while Rajo is a sought-after designer of important and famous personalities.


Project Runway is originally a U.S. reality show hosted by supermodel Heidi Klum. The first two seasons of Project Runway Philippines were hosted by model Teressa Herrera in 2008 and 2009. The show has produced season 1 winner Aries Lagat and season 2 winner Manny Marquez, who are now both recognized fashion designers in the industry.
THE DESIGNERS. This batch of designers is a mix of industry insiders, raw talent, and radical career shifters. Each of them has their own unique talent and design aesthetic that they need to showcase in order for them to be tagged as the next big Filipino designer.


ADVERTISEMENT - CONTINUE READING BELOW
A decade ago, Amor Albano of Laoag City was an assistant and gopher for a more established designer in Ilocos Norte. She breathes and lives fashion day in and day out. Her experience and insight in the industry led her to get her own clients and eventually design for high society personalities.


Cheetah Rivera wowed the Project Runway audition panel with her impressive design portfolio that consisted of unique design elements. Having a passion for fashion at an early age of 12, this now 24 year old fashion designer has equipped herself with a degree from the Philippine Fashion Institute in order to make her passion into a full-fledged career.


Call center agent Enzo Libo-on is at a crossroads in his life. He really wants to be in the fashion industry despite his parent's wishes for him to stay in the corporate world. He is determined to make his parents proud and prove that he can be successful in his chosen field.


Fatima Guerrero stands out as the only Muslim contestant in this season's competition. Despite the restraints of her background and religion, this pretty 21-year old fashion design student does not limit creativity when it comes to her designs.


They say that to be in this industry, you have to have an eye for fashion. Glenn Gonzales however, is suffering from congenital glaucoma, an eye disease that may hinder him from doing what he loves most. He is determined to defy all the odds and prove that he can still be a great designer despite his disability.
ADVERTISEMENT - CONTINUE READING BELOW

Ionica Abraham has a degree in fashion design and merchandising from DLSU- College of St. Benilde. She describes her design aesthetics as edgy and feminine. She works as a fashion stylist and is determined to showcase her designing talent as well in the industry.


Jenno Gacasan of Cebu is merging visual arts and fashion design. He has a Bachelor's degree in Painting, an admirable talent which he incorporates in the clothes he makes. His unique hand-painted pieces are truly works of art and may just be an emerging trend in the Philippine fashion industry.


Having lived in New York prior to joining Project Runway, Joseph Montelibano has been exposed to the taste of the global fashion community. He hopes to use his knowledge of the industry to his advantage and be the next Filipino designer to make the Philippines proud.


Patternmaking instructor Karla Galang is one of the toughest competitors to beat this season. Her superb taste in fashion plus knowledge in the technicalities of design making enables her to effectively translate her designs to reality.


Costume designer Lenvil Paneda was actually pursuing a degree in Applied Physics before diving into the world of fashion and design. He enjoys creating flamboyant costumes for theater and TV production.


Banker-turned-fashion entrepreneur Milka Redoble is another designer who switched careers in order to do what she loves. After quitting her job, she took classes at Slim's Fashion and Art School and eventually started her own fashion online store.


Visual Merchandiser MJ Alimanza graduated with a degree in Mass Communication. She pursued further studies at the Fashion Institute of the Philippines shortly after graduation. Despite being relatively new in the fashion scene, MJ has her share of fashion shows and her designs have been generating interest and is said to have great potential.


ADVERTISEMENT - CONTINUE READING BELOW
Nel Claveria is a successful Filipino fashion designer in Brunei. Described as a Jack of all trades, Nel can design men's wear, women's wear, haute couture, ready-to-wear, or avant-garde creations depending on the occasion.


Ex-seminarian Normanie Santos found his true calling in the field of fashion design. He started out in jewelry making then eventually took an interest in tailoring. Despite his lack of experience and proper design pedigree compared to the other designers, Normanie was able to impress the judges during audition with his very raw but promising visions and designs.


Cebuano Yves Camingue is generally a self-taught fashion designer. He only took short lessons on sewing and draping. He describes his designs as "rebel aristocrat," an aesthetic that showcases a rebellious sophistication.


The winner this season will take home half a million pesos, beauty products from Pond's worth 100,000 pesos, a feature in Mega Magazine, sewing machines from Brother International, a brand new Intuos4 Wacom unit, and a 4-year fashion design scholarship from iAcademy. The winning designer will also be treated to an all-expense paid trip to France for the Paris Fashion week.


Project Runway Philippines airs on ETC every Sunday at 8:00 PM.