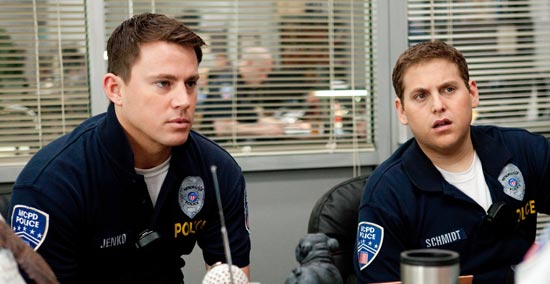 ---
In Columbia Pictures' action-comedy 21 Jump Street, Schmidt (Jonah Hill) and Jenko (Channing Tatum) were enemies in high school who became unlikely friends in Police Academy. While they may not be the best cops on the beat, they have a chance to turn it around when they join the police department's secretJump Streetunit, run by Captain Dickson (Ice Cube). They trade in their guns and badges for backpacks and use their youthful appearances to go undercover.
Trouble is, teenagers today are nothing like what they were just a few years ago, and Schmidt and Jenko discover that everything they think they know about being a teenager, from sex to drugs to rock and roll, is all wrong. More importantly, they both find they are still dealing with all of the adolescent problems they didn't address in their own teen years--and both will have to confront the terror and anxiety of being a teenager again and all the issues they thought they had left behind.
ADVERTISEMENT - CONTINUE READING BELOW
Columbia Pictures and Metro-Goldwyn-Mayer Pictures present in association with Relativity Media an Original Film / Cannell Studios production, 21 Jump Street.
Starring Jonah Hill, Channing Tatum, Brie Larson, Dave Franco, Rob Riggle, with Ice Cube. Directed by Phil Lord & Christopher Miller. Produced by Neal H. Moritz and Stephen J. Cannell. Screenplay by Michael Bacall. Story by Michael Bacall & Jonah Hill. Based on the television series created by Patrick Hasburgh & Stephen J. Cannell. Executive producers are Jonah Hill, Channing Tatum, Ezra Swerdlow, and Tania Landau. Director of Photography is Barry Peterson csc. Production Designer is Peter Wenham. Editor is Joel Negron. Costume Designer is Leah Katznelson. Music by Mark Mothersbaugh.
Opening across the Philippines in May 2012, 21 Jump Street will be distributed in the Philippines by Columbia Pictures, local office of Sony Pictures Releasing International.