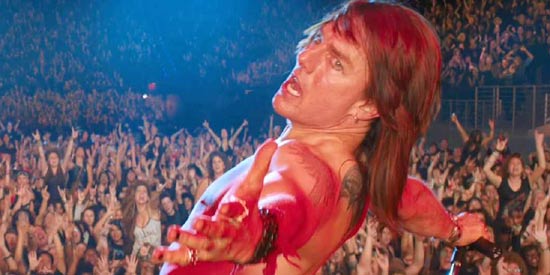 ---
New Line Cinema and Warner Bros. have just released the latest trailer of director Adam Shankman's feature film adaptation of the smash hit Broadway musical Rock of Ages. Watch Tom Cruise belt out the Bon Jovi classic "Wanted Dead or Alive" in this link: http://youtu.be/6eze_xTz6nk.
Rock of Ages tells the story of small town girl Sherrie and city boy Drew, who meet on the Sunset Strip while pursuing their Hollywood dreams. Their rock 'n' roll romance is told through the heart-pounding hits of Def Leppard, Joan Jett, Journey, Foreigner, Bon Jovi, Night Ranger, REO Speedwagon, Pat Benatar, Twisted Sister, Poison, Whitesnake, and more.
The movie musical stars Julianne Hough, with actor/singer Diego Boneta in his feature film debut, Russell Brand, Oscar® nominee Paul Giamatti, Academy Award® winner Catherine Zeta-Jones, Malin Akerman and R&B queen Mary J. Blige, with Oscar® nominees Alec Baldwin and Tom Cruise as Stacee Jaxx.
ADVERTISEMENT - CONTINUE READING BELOW
Shankman directs Rock of Ages from a screenplay by Justin Theroux and Chris D'Arienzo and Allan Loeb, based on D'Arienzo's musical of the same name.
Opening across the Philippines in June 2012, Rock of Ages will be distributed worldwide by Warner Bros. Pictures, a Warner Bros. Entertainment Company.
SHARE THIS STORY Rock of Ages
" data-url="https://www.pep.ph/guide/at-a-glance/10076/tom-cruise-belts-out-wanted-dead-or-alive-in-musical-film-rock-of-ages" data-desc="Rock of Ages will open in Philippine cinemas by June 2012." data-image="https://contents.pep.ph/images2/guide/1333514800_RockOfAges_TCruise_02.jpg">
Rock of Ages" data-url="https://www.pep.ph/guide/at-a-glance/10076/tom-cruise-belts-out-wanted-dead-or-alive-in-musical-film-rock-of-ages" data-desc="Rock of Ages will open in Philippine cinemas by June 2012." data-image="https://contents.pep.ph/images2/guide/1333514800_RockOfAges_TCruise_02.jpg">
Rock of Ages" data-url="https://www.pep.ph/guide/at-a-glance/10076/tom-cruise-belts-out-wanted-dead-or-alive-in-musical-film-rock-of-ages" data-desc="Rock of Ages will open in Philippine cinemas by June 2012." data-image="https://contents.pep.ph/images2/guide/1333514800_RockOfAges_TCruise_02.jpg">
SHARE THIS STORY
Rock of Ages
" data-url="https://www.pep.ph/guide/at-a-glance/10076/tom-cruise-belts-out-wanted-dead-or-alive-in-musical-film-rock-of-ages" data-desc="Rock of Ages will open in Philippine cinemas by June 2012." data-image="https://contents.pep.ph/images2/guide/1333514800_RockOfAges_TCruise_02.jpg">
Rock of Ages" data-url="https://www.pep.ph/guide/at-a-glance/10076/tom-cruise-belts-out-wanted-dead-or-alive-in-musical-film-rock-of-ages" data-desc="Rock of Ages will open in Philippine cinemas by June 2012." data-image="https://contents.pep.ph/images2/guide/1333514800_RockOfAges_TCruise_02.jpg">
Rock of Ages" data-url="https://www.pep.ph/guide/at-a-glance/10076/tom-cruise-belts-out-wanted-dead-or-alive-in-musical-film-rock-of-ages" data-desc="Rock of Ages will open in Philippine cinemas by June 2012." data-image="https://contents.pep.ph/images2/guide/1333514800_RockOfAges_TCruise_02.jpg">
Rock of Ages" data-url="https://www.pep.ph/guide/at-a-glance/10076/tom-cruise-belts-out-wanted-dead-or-alive-in-musical-film-rock-of-ages" data-desc="Rock of Ages will open in Philippine cinemas by June 2012." data-image="https://contents.pep.ph/images2/guide/1333514800_RockOfAges_TCruise_02.jpg">