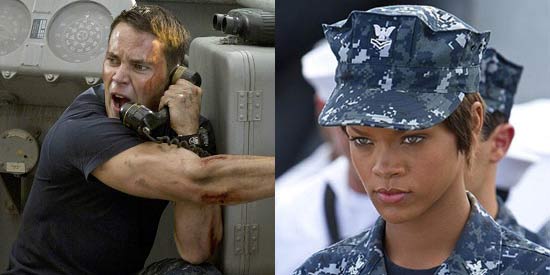 ---
Taylor Kitsch is cast as the reluctant captain Hopper in the sci-fi movie, Battleship. He has been in the limelight since his work in the television show Friday Night Lights in 2006 and in 2009's X-Men Origins: Wolverine where he brought to life Gambit, one of the most beloved characters in the X-Men universe.


Kitsch was also curious to explore the dynamic between the two brothers; Stone and Hopper. Kitsch says: "That is what put me overboard, no pun intended: the arc of where Hopper starts in the story—from stealing and being arrested to the head shaving when he enlists—to his becoming a leader…" You see his emotion through the loss he suffers, then watch as he becomes the ship's captain. Hopper never wanted to be this guy, but he's thrown into it unexpectedly and is forced to reach his own potential in the most extreme circumstance. "In comparison, Stone gives him a purpose, and Hopper owes everything to his brother," the actor continues. "Initially, he didn't want to reach his potential because of that risk of failure."


Another elite member of the U.S. Navy was played by Rihanna, making her feature-film debut. The Grammy Award winner was chosen to play the tough-as-nails gunner Petty Officer Second Class Cora Raikes, one of Hopper's fellow shipmates. "From day one, I had strong feelings about Rihanna," says American filmmaker Peter Berg. "You can tell she's musical because she takes direction well, and she looked the part. I was very impressed with her work."


The performer was open to acting roles before production began. "I didn't know who I was going to play when I met with Pete," Rihanna reveals. "After I got the script, I was so impressed by it, and I just loved the story. I couldn't put it down, which was a clear indication that it would be a film that I would enjoy watching. What I ended up enjoying about working with Pete was his energy, how adventurous and spontaneous he is."


Rihanna completely responded to how tough her character was. "Raikes kicks a lot of ass," she says. "She's one of the boys, and it was fun to explore that because I was a tomboy as a kid. The character is filled with raw energy, and it was a moment for me to be someone completely different than what people are used to seeing. It was exciting for people to see me as an actress and look at me as Raikes and not Rihanna."


"Battleship boasts of an international cast which includes Liam Neeson as Admiral Shane, Taylor Kitsch as Alex Hopper, Alexander Skarsgård as Stone Hopper, Brooklyn Decker as Samantha, Reila Aphrodite as Sam, Rihanna as Raikes, Josh Pence as Chief Moore, U.S. Army Colonel Gregory D. Ganson, a battalion leader who lost both legs in Iraq in 2007 as Lt. Col. Mick Canales and Peter MacNicol as Secretary of Defense.


Battleship is a Universal Pictures Presentation directed by Peter Berg and is distributed locally by United International Pictures through Solar Entertainment Corporation. Showing at your favorite theaters starting April 12, 2012.
ADVERTISEMENT - CONTINUE READING BELOW