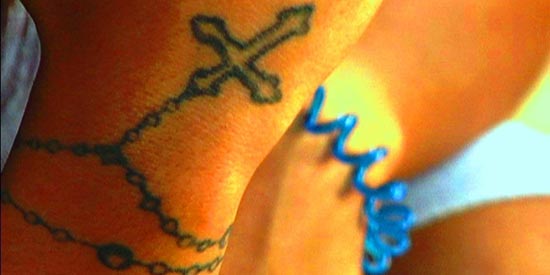 ---
Stubborn, rowdy, and a source of worry of their families and barangay—these are the words to describe three young delinquents from Binanganon, Rizal in this week's episode of GMA-7's Tunay Na Buhay.
At the tender ages of 14 and 17, Mel, Jenny and Abby (not their real names) have been involved in all sorts of mischief, vices, and troubles in their community.
Peer pressure and lack of family support are said to be the reason behind the awful behavior of these "Tres Marias" of Rizal.
Is there still hope for them? Find out in this week's episode of Tunay Na Buhay, Friday night after Saksi, on GMA-7.
SHARE THIS STORY Tunay na Buhay
" data-url="https://www.pep.ph/guide/at-a-glance/10137/tres-marias-to-be-featured-on-gma-7s-tunay-na-buhay" data-desc="Three female delinquents will be featured in Tunay na Buhay" data-image="https://contents.pep.ph/images2/guide/1334732250_tunay-na-buhay.jpg">
Tunay na Buhay" data-url="https://www.pep.ph/guide/at-a-glance/10137/tres-marias-to-be-featured-on-gma-7s-tunay-na-buhay" data-desc="Three female delinquents will be featured in Tunay na Buhay" data-image="https://contents.pep.ph/images2/guide/1334732250_tunay-na-buhay.jpg">
Tunay na Buhay" data-url="https://www.pep.ph/guide/at-a-glance/10137/tres-marias-to-be-featured-on-gma-7s-tunay-na-buhay" data-desc="Three female delinquents will be featured in Tunay na Buhay" data-image="https://contents.pep.ph/images2/guide/1334732250_tunay-na-buhay.jpg">
SHARE THIS STORY
Tunay na Buhay
" data-url="https://www.pep.ph/guide/at-a-glance/10137/tres-marias-to-be-featured-on-gma-7s-tunay-na-buhay" data-desc="Three female delinquents will be featured in Tunay na Buhay" data-image="https://contents.pep.ph/images2/guide/1334732250_tunay-na-buhay.jpg">
Tunay na Buhay" data-url="https://www.pep.ph/guide/at-a-glance/10137/tres-marias-to-be-featured-on-gma-7s-tunay-na-buhay" data-desc="Three female delinquents will be featured in Tunay na Buhay" data-image="https://contents.pep.ph/images2/guide/1334732250_tunay-na-buhay.jpg">
Tunay na Buhay" data-url="https://www.pep.ph/guide/at-a-glance/10137/tres-marias-to-be-featured-on-gma-7s-tunay-na-buhay" data-desc="Three female delinquents will be featured in Tunay na Buhay" data-image="https://contents.pep.ph/images2/guide/1334732250_tunay-na-buhay.jpg">
Tunay na Buhay" data-url="https://www.pep.ph/guide/at-a-glance/10137/tres-marias-to-be-featured-on-gma-7s-tunay-na-buhay" data-desc="Three female delinquents will be featured in Tunay na Buhay" data-image="https://contents.pep.ph/images2/guide/1334732250_tunay-na-buhay.jpg">